Free Greek Recipes
Homemade Cyprus food

About Greek recipes and Cyprus Cuisine
In ancient times Cypriots became well known for their fantastic cuisine.
Some ancient greek food items still used today in greek cypriot recipes are Cyprus Ham called Lountza.
delicious grilled on a charcoal barbeque. Often it is served as one of many appetizers in a Cyprus Meze.
Make Some Traditional Greek Recipes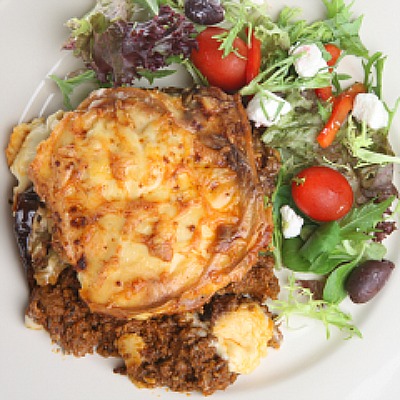 Cyprus cheese, Halloumi is also famous the world over. It has a mild and creamy flavour. Great grilled on a bbq. Yummy!!
You will more than likely find it in your local supermarket these days.
Cypriot cuisine has become a major business for the island of Aphrodite. Greek food recipes have travelled the world and are prepared in many major cities across the world.
Cyprus God of Hospitality
Cyprus island even has a God of Hospitality and protector of visitors, common greek phrase XENOS, meaning stranger or guest, and KOPIASTE meaning "join us for dinner".
A very important historical aspect of Cypriot hospitality is it's excellent food and wine, known well in King Solomon times.
I love to prepare some of the famous Cypriot dishes which are cooked slowly, slowly, or seega, seega as they say here, in a sealed traditional outside clay oven, like kleftiko.
Discover authentic cypriot flavours. Experience traditional Cyprus food at home. Follow my recipes and you will see how easy it is to re-create some of those world renowned dishes
Try my family's favourite Greek Recipes like Lamb Kleftiko recipe traditionally slow cooked. I re-create it in a normal oven in winter or on the bbq in summer.
My husband adores Beef Stifado another famous cypriot dish.
There are many more listed below.
Enjoy the ride!!

Yummy Greek Recipes for Your Family to Enjoy
If you haven't been fortunate enough to visit Cyprus, it truly is worth the adventure.
You'll experience some of the best traditional food on offer.
Don't wait for that holiday, go on and try some of the cuisine right here.
For the Love of Greek Cypriot Food & Wine
Tourists who choose to holiday in Cyprus love the food so much they keep coming back.
Since ancient times, Cyprus has been famous for its hospitality.Many dishes are prepared in the same way as ancient greek food recipes.
The weather in Cyprus, is warm almost all year round. Which is great for producing the tastiest fruit, vegetables and herbs.
We always eat what's in season.

Do You Have a Favourite Cypriot Recipe to Share?
If you have made your own version of a favourite greek cypriot recipes do share it with us and other visitors to the site.
Your will have a whole recipe page to create your masterpiece on the site! And...

You can tell your friends all about it.

Include a photo of your delicious recipe creation too.

So don't be shy... add your recipe toady.







Just write your recipe in the form below

Have A Yummy Greek Recipe to Share?
Your Invited to Share a Greek Recipe Here!


Choose any of the homemade Greek recipes you fancy trying. These are simple to make. Promise!
Visit regularly for recipe updates or subscribe free to my Cyprus Blog. All you need to do is click on the Orange RSS Button on the left of the screen.