Welcoming Weather in Cyprus
So what's the weather in Cyprus really like?

Let me tell you... Season by Season.
Imagine this...
Waking up to clear blue skies almost every day of the year?
It is such a feel good factor, when the sun is shining.
My family have been living in Cyprus for several years. And obviously experience the climate in Cyprus everyday.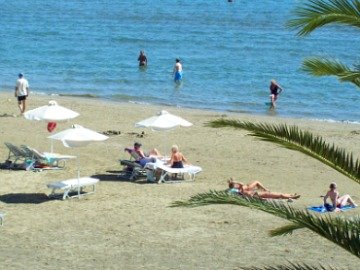 I would like to give you a real scene of what the Cyprus weather is really like, from our insider perspective.

And if you are seriously thinking of moving to Cyprus!
A Special Tip
The Cyprus climate can seriously improve your health.

All Year Weather in Cyprus
Sunny Warm and inviting
The Island of Cyprus is located on the Mediterranean Sea, South of Turkey. The Mediterranean climate is warm and dry. It occasionally rains during winter. Cyprus is very lucky to be sheltered from severe weather. And... It is very rare for Cyprus to be effected by really low temperatures.

Spring in Cyprus
Spring time weather in Cyprus is fairly short, from March – May.
It is interested to note that as each month passes, the temperature rises around 4-5c.
I find it fascinating that the weather in Cyprus follows the same pattern every year. Except for the occasional rain slightly out of season or the temperature is a few degrees higher or lower than usual.
March to May Temperature Range
March - steady moderate temperatures between 8c - 19c. April - rises a few degrees, between 12c min – 22c max.May - another rise in temperature by 4-5 degrees, 16c – 27c.
If you are not comfortable with high summer temperatures, spring is a lovely time to visit Cyprus. Especially in May.
Spring Clothing
What should you wear?
March – Jeans, long sleeved tops, shoes
April - light trousers, t-shirts and shoes. In the evening, you might occasionally need a light weight jumper or cardigan.
May – light trousers, t-shirts, shorts, sandals and your sunglasses

Summer in Cyprus
We are getting into seriously hot weather in Cyprus, June – September.
This is the time of year that some people choose to holiday up on troodos mountains. It's several degrees cooler and fresher than at sea level. Read more about Troodos.
Summer Temperature Range
June, 20c – 31c
July, 24c – 35c, occasionally July temperatures can reach 40+c occasionally.
August, 24c – 35c August temperatures can also reach 40+c on occasions.
September 21c – 31c Yes, it's still hot!
Summer Clothing
What should you wear?
As little as possible! You know what I mean! Plenty of Cotton tops, shorts and underwear. Cotton fabric is breathable, so cooler than synthetics.
Make sure you pack lots of high factor sun cream and a few pairs of high uv protective sunglasses. And…
Don't forget to drink plenty of water!
Autumn in Cyprus
I really like the weather in Cyprus at the beginning of Autumn, especially October.
The temperature is very comfortable. We can still wear light clothing during the day. But the evenings start to get slightly chilly around mid October.
A Special Note
For us residents of Cyprus, we tend to feel the drop in temperature more than holiday makers. Our bodies are so accustom to the warm weather in Cyprus over a longer period of the year – over 300 days, compared to many other countries.
As winter draws in, we gradually start wrapping up in layers. Whereas, holiday makers are walking around in shorts and t-shirts. They think we're mad!
Being from the UK myself, The Cyprus weather is almost at the top end of the temperature scale, compared to the cold, wet and grey UK weather. Sorry Guys!
Autumn Temperature Range
October – 16c – 28c
November – 11c – 22c
What should you wear?
October Day time - light trousers, shorts and sandals In the evening a light jumper or sweat shirt.
November Day time - light trousers, long sleeve top and shoes.

Winter in Cyprus
December brings thoughts of a cold and wet season starting, that isn't really the case in Cyprus. The temperature is quite pleasant. January and February are colder.
Winter Temperature Range
December – 10c – 18c
January, 9c – 16c
February, 5 – 15c
What should you wear?
Jeans or winter trousers, long sleeve jumper and shoes. Bring a winter coat just in case.

Take a Long Term Winter Holiday in Cyprus
When the summer holiday season is finished at the end of October, many people, especially Scandinavians, start to arrive early November for long term holidays in Cyprus. They usually stay for 3-4 months.
The climate in Cyprus very comfortable compared to the big freeze temperatures in their native country.
Spend the time doing outdoor activities such as cycling, walking, hiking. It's a great time to go skiing up on Troodos Mountains.
Read what other travellers have said about their Cyprus Holidays on the most trusted travel review site.

Have you had a long winter cheap holiday in Cyprus? Didi you get a cheap deal?
Share it with other visitors.
You can add content to the site, by sharing your wonderful holiday stories. Your story could be a dedicated page right on the site. You could tell all your friends and family about it.
Share your long term cyprus holiday story here. Include a special picture too.
Go on...don't be shy!

Have A Great Tip to Share or Cheap Cyprus Holiday Story to Tell?
Write your great cheap Cyprus holiday tip or story and Share it here!
<
View 1-5 Star Ayia Napa Hotels

Find a Cheap Holiday in Cyprus

Top of Weather in Cyprus

Go to Cyprus Keys Home Page