Homemade Lamb Kleftiko
We love Kleftiko, its a Greek Cypriot traditional lamb recipe, slow cooked for 12 hours in a sealed clay oven located outside a Cypriot home or in local tavernas.
When we would come to Cyprus on holiday, Kleftiko was always the first Cyprus lamb dish we would order at one of the local tavernas.
This simple homemade lamb recipe has only a few ingredients. Lamb, potatoes, oregano, bayleaves and a bit of water or stock.
Slowly, slowly cooked kleftiko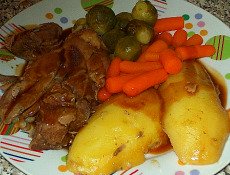 It's the first Cyprus food recipe I made when we moved to Cyprus.
You can use either a leg of lamb, shoulder or 1 whole lamb shank per person.
I'm going to show you how easy it is to make Kleftiko at home.
I cook Kleftiko on the BBQ during the warm months and in the oven inside during winter. Unfortunately, we are not lucky enough to have an outside clay oven. Maybe someday!
If you would like to make this lamb recipes outside, you can, on a gas bbq with a drop down lid.
Okay...
Let me show you how to make lamb kleftiko at home.
Have Fun!

How to Make your own Lamb Kleftiko at home
Ingredients for 4 servings...
1 leg of lamb or shoulder,cut into 3-4 inch chunks or 1 lamb shank per person.

4 medium potatoes peeled and sliced in half width ways

1 lamb or beef stock cube

1 tbsp of Cyprus Oregano – it's very mild! or 1/2 - 1 tsp of other store bought oregano

2-3 bay leaves

3/4 pint of fresh water







Preparing...
Preheat your kitchen oven to 175c

Cut the lamb leg or should into chucks, you should get about 5 or 6 peices. If using lamb shanks leave them whole.

Place the lamb pieces in a large casserole dish which has a tight fitting lid.

Add about an inch of water to the casserole dish. Don't submerge the lamb completely. The water stops the meat from sticking.

Sprinkle in the oregano, stock cube and add bay leaves.

Mix and turn the meat to coat.

Sprinkle a little salt and ground pepper in.
Cover with the lid. If the lid doesn't fit tightly, cover the dish with foil before popping on the lid.

This will keep all the lovely flavours sealed in while the lamb cooks and it will suck in all those delicious juices.

When the lamb has been cooking for about 1 hour, lay the sliced potatoes on top of the lamb.

They will soak up the wonderful flavours and still  stay firm.

What you don't want is the potatoes to boil in the water, break up and be greasy.

If you need to add more water at any stage, only add hot water.Cold water will stop the cooking process.

Cook until the meat can be easily pulled away from the bone and the water has reduced.

That's when you know its ready.

Serve with any of your favourite fresh vegetables.



I hope you enjoy my version of this wonderful greek cypriot recipe
If you want to know how to cook it on the bbq read on...
How to Cook on the BBQ
You will need a gas bbq with a deep drop down lid which will close ove.

You will alos need to use an enamel casserole dish like the one I use, pictured here. Most supermarks stock them.
I've been using the same enamel dish since we moved to Cyprus years ago. It's very hardy, easy to clean and still looks like new!
Okay... How to cook it on the BBQ
The recipe is just the same as above its just the cooking equipment and method is different.

Preheat the bbq to a fairly low setting.
When you place the casserole dish with the lamb inside onto the BBQ, just make sure it doesn't start to boil.

Gentle bubbles is the order of the day!

Pull the BBQ lid down to keep the heat in.

Adjust the heat setting until the lamb is simmering nice and slowly.

After an hour add place the potatoes on top of the meat.

Reseal the dish and cook until the potatoes are ready and the meat is tender.

 







Check regularly to make should there is enough fluid. Add a little more hot water or stock if you need to.

Other Visitors also liked...
Return to top of Kleftiko Recipe
Visit Cyprus Keys Home Page