Best Cyprus Resorts...
for Your Cyprus Package Holidays

---

Best Cyprus Resorts for fun, chilling out, clubbing, eating, sunbathing, watersports, boat trips and loads more excitement.
So sit back and find out everything you need to know about Ccyprus resorts.
Beautiful Cyprus resorts with crystal-clear waters set amidst natural rock formations can be found along with a variety of cultural, artistic, sports, recreation, entertainment and adventure activities that will surely make your stay a busy-yet-enriching and wonderful experience.
So check out all the best that Cyprus Resorts have to offer.
We have experience every resort in Cyprus over many years, now we want to share to help you choose the best one.

Buzzing and Entertaining Ayia Napa Resort
Ayia Napa is one of the top Cyprus resorts which features some of the best-kept secrets of nature now opened to visitors. Its powdery-white sandy beaches and sparklingly-clear waters are set amidst a backdrop of unspoiled ragged lines and walls of nature's creations, a perfect setting for a most relaxing and invigorating vacation for anyone who loves to relax or play all day.
This lively Cyprus resort that was once a fishing haven for local folks is famous for Cape Greco, an amazing stretch of clear blue waters and serene ambience.
You will find plenty of Hotels in Ayia Napa the 1 star Paloma Apartments is cheap with great tripadvisor reviews.
The Alexia Hotel Apartments Ayia Napa is a 2 star, which is also praised by previous guests. If you want luxury, the Alion Beach Hotel has 5* guest reviews.
The nightlife in Ayia Napa is considered to be one of the liveliest among all the resorts in Cyprus. So after hitting the beach during the day, it's time for great Cypriot food, fun, good music, entertainment, and camaraderie at night.
After sampling the beautiful beaches and the lively nightlife entertainment, you can stroll or take a little ride around the village and discover more charms of Ayia Napa.
Put your shorts on and have a leisurely walk, talk with the very friendly local Cypriots, sample the best local greek Cypriot cuisines, delicacies, and legendary warm hospitality.
Find out more about the rich and diverse Cyprus resorts and the Mediterranean fauna at the Marine Life Museum and learn the rich cultural heritage and history at the Traditional Country House Museum.
The autumn and winter cultural Cyprus festivals will also guide you to fascinating history trails, cookery classes, and for the more adventurous ones, the hiking and biking trails and more.
There's loads of accommodation to choose from in Ayia Napa from low cost Cyprus self catering accommodation in Ayia Napa to luxury 5 star hotels.
Learn more about Ayia Napa resort

Family Fun and Golden Beaches
of Protaras Resort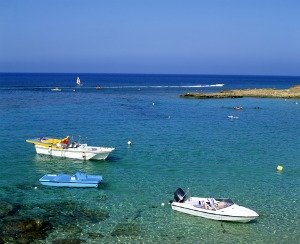 If you are planning a family vacation, one of the best Cyprus Resorts that suit families with young children is Protaras.
This village and holiday resort has its own sterling line of golden-sand beaches with shallow, crystal clear waters perfect for families who have small children.
Children will have loads of fun during the day at one of the hotels kiddies club or hotel pool or fig tree bay beach.
Adults can enjoy water sports, jet skiing, underwater discoveries at beautiful nearby Cape Greco. At night there are lots of bars, restaurants, tavernas, entertaining and making new friends and share experiences with fellow guests.
Hotels in Protaras, Cyprus highly rated highly by previous guests are...
The 3 star Pernera Beach Hotel and 3 star Astreas Beach Hotel Apartments and the fantastic 4 star Malama Holiday Village
Find out more about Protaras Resosrt

Charming Cosmpolitan Larnaca Resort


The perfect combination of the old and the new, the mysterious and the convenien. Come and discover Larnaca. the oldest city, third largest town and very popular Cyprus resort on the island.
Larnaca also spelt Larnaka, is a very large charming, flourishing town. One of the most diverse resorts in Cyprus. It has both the convenience of Larnaca international airport where visitors from all over the world touch down, eager to get down to start discovering Cyprus. The firt thing that hits you... the heat!!
Larnaca has over 6,000 years of rich cultural and historical heritage, you may just as well travel through time with the well-preserved artifacts, icons, and other significant items found in their six museums new page and the new Municipal Gallery and Cultural Centre.
Other highly interesting sites to see are the Salt Lake, the St. Lazarus Church, the Halla Sultan Tekke, the Fort, and the Marina. .
Lefkara village, famous for its unique red roofs and lace making, which started thousands of years ago, is also a must-see.
Air adventures can also be organized either for sightseeing tours around Larnaca or for flight training. Then top the whole Larnaca treat with diving and sea cruise adventures.
Learn more about Larnaca Resort

Cosmopolitan Limassol Resort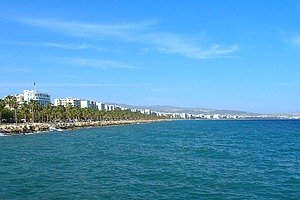 Located on the South coast, this Cyprus resort is also perfect for families interested in a variety of fun-filled activities along its line of pebble and sand beaches. This is also one of the Cyprus Resorts that have its own share of museums such as Kourion new page, which has a rich collection of archeological finds.
Nearby is also the military architectural icon of the 13th century, the Kolossi Castle once used by the Knights of St. John and the Knights Templar. Limassol, embraced between the ancient cities of Kourion from the west and Amathus from the east, is where the legendary Richard the Lionhearted was believed to have married Berengeria during the Third Crusade in 1191.
Read more about Cyprus History
Today, you can enjoy the 2.8 tourist span of the Amathus path set along the shoreline from Poseidona Hotel down to the ancient Amathus, where we stayed many times at the beautiful 5 star Amathus Beach Hotel is nearby.
There is another path which takes you beneath a coastal road to various archeological sites where a wooden bridge leads to the old Agora. read more about archeological sites in Cyprus
Limassol is the main port of Cyprus, where you can book cruises from Cyprus to Eeygpt for example, visting the pyramids, museums and local shops.
Read more about Limassol Resort

Go back in time on Troodos...
and Ski on Mount Olympus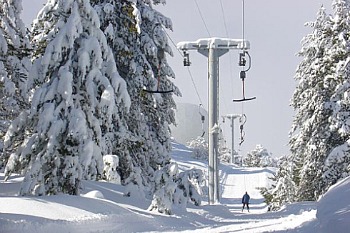 Fresh mountain breeze, vast natural sites, and solitary adventures in slow pace are what you can expect from Troodos, one of the most serene Cyprus resorts.
Visit the monasteries and ancient churches, hike and follow the many trails that have been traced by local villagers for centuries. Discover the cultural treasures officially listed and cited by UNESCO.
Savor the feeling of being on top of the world by climbing Cyprus's highest mountain at 1,953 meters, the Mount Olympus, where you can enjoy skiing every winter season after a great sunbathing experience by the seashore.
Then go for a more spiritual hike up to the ancient gilded Kykko Monastery, a popular and well-revered pilgrimage site founded in 1100 by a hermit and where St. Luke was said to have painted the Blessed Virgin icon. Learn more about Troodos, read trip advisor reviews
More interesting things about Mount Olympus and Troodos

The Old the New and Aphrodite's
Paphos Resort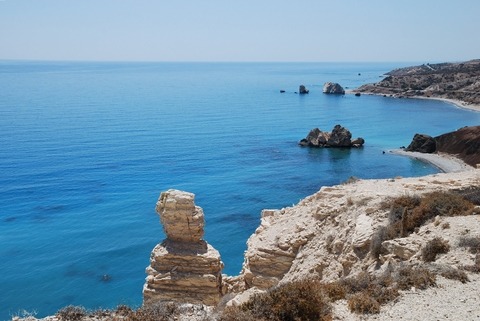 The pleasant blending of the old and new in Paphos, also known as Pafos, located on the southwest of the island, is what best describes one of the slow-paced Cyprus resorts. Paphos airport is conveniently situated not far from the resort.
However, you do not have to stay soaked in the sun all days when you are in the birthplace of the Goddess of Love, Aphrodite. There's the Secret Valley in Aphrodite Hills new page, the 18-hole golf course in Tsada, one of many Cyprus golf courses to visit. When you get hungry, visit the string of cafes and restaurants along the panoramic harbor.
After a great meal, check out the House of Dionysius, Theseus, and Aion for their stunningly beautiful 3rd century mosaic floors. Then hike off to the 16th century Paphos Castle new page and the 2nd century Roman theatre of Odeon new page.
Find out more about Paphos and Cyprus through the amazing finds preserved in their museums, the Temple of Aphrodite new page at Kouklia, and the vast 4th century burial grounds known as Tombs of the Kings new page.
Finally, savor the amazing Polis new page, the Baths of Aphrodite, and the picturesque Latchi harbor. Love the Food, the Wines, Recreation, and more. Make some greek Cypriot recipes at home before you travel to Cyprus.
Visitors will always have a grand time staying in one or more of the Resorts in Cyprus as not only the beautiful beaches, ancient museums, mountain treks, picturesque harbors, and ancient architectural and archeological sites will fill you with awe and memorable experiences, but the exotic mix of foods and the legendary good wines take you on a more blissful journey around the island.
Restaurants and cafes abound in all the resorts. Greek food is popular but you will be surprised to find that there are Turkish, English, Indian, Chinese, Russian, Lebanese, and Yugoslavian dishes too, truly an international cuisine where everyone can have their fill.
So whether you just came from a hiking, diving, or a cycling adventure, a golf session with your buddies, museum visits with friends or family, or even a civil or religious wedding – (idea for wedding venues in cyprus) (yes, they do that too for visitors!), try out Meze, the full-packed traditional mix of thirteen or more varying dishes. Or, check out Kleftiko, Souvla, Moussaka, or stifado, and other delicious treats.
Finally, there are the world-famous wines, brandy sour cocktail and the strong Cypriot coffee.
Come to Cyprus, the Mediterranean Island with the exotic mix of rich culture, traditions, beautiful natural sites, wines, internation exotic food and lots and lots of sunshine.
There are some fantastic holiday villas in Cyprus, the cost can work out much cheaper per person. Take a look at James Villas and holidays.
Learn more about historical Paphos Resort

Looking for a flight or package holiday to Cyprus?

---
I recommend trying the following for Cheap flights and travel deals.
Find low cost flights and holidays with Cheapflights.co.uk
Thomson holidays, long established holiday and flight specialist, the UK's Number One Charter Airline
and the world renowned

Book Cyprus Car Hire
and get 5% Online Discount and more...

---
---

Lowest Prices for Cheap Cyprus Holidays

Top of Best Cyprus Resorts

Go to Cyprus Keys Home Page