Best Online Travel Agents
for Cyprus Flights and Holidays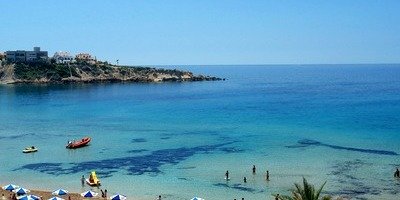 Our Best Online Travel Agents
Booking a relaxing holiday these days is stressful! Agreed?
I remember when the only place you could book a holiday was at a high street travel agent.
We would pick up a few brochures and browse through them after dinner. It was so much easier, wasn't it?
Nowadays… it takes a lot of time and online research!
There are so may travel sites on the internet, its impossible to search through them all. And there are many you've never heard.
Our family have travelled around the world over many years.
My husband worked as an engineer on oil tankers, so he travelled through Europe, Asia, Middle East and Africa.
Since we have been together, we have travelled to many countries, Spain, Italy, Homg Kong, Singapore, Thailand and America and loads of holidays in Cyprus before moving here permanently.
So lets just say we have had more than enough experience of travel agents - online and off.
To help you cut the staggering amount of time it takes to find the right online travel agent, we offer you our voice of experience, tips and advice. And.. we have answered vistors questions, which you will see at the bottom of this page.


The majority of travel agencies do 80-90% of their business on the internet.
It's more convenient for us to sit on the sofa with a laptop and browsing through different travel sites and holidays until you're dizzy!
It's like searching for a new home, you view so many, you can't remember which house had what!

How to choose reputable online travel agents

---
Fully qualified UK travel agents must have the following...

CAA – Civil Aviation Authority License
They cover safety regulation and consumer protection
You can learn more…Civil Aviation Authority

ATOL - Air Travel Organisers Licensing
ATOL protects you from losing your money or being stranded abroad.

Learn more… Air Travel Organisers Licensing

ABTA Association of British Travel Agents
ABTA and its members have been helping holidaymakers to get the most from their travel by working to high professional standards and offering choice, value and quality. If you book your holiday with a member of ABTA they assure a worry free holiday.
You can check if an online travel agent is a member of ABTA by entering the company name into the search box on their home page
Also check they have a secure online travel booking system.
Here's an example...,
If you were to book a holiday with Thomsons and where to pay using their online booking system, look for a small padlock image

in the address bar at the top of your computer screen. That tells you that your in a secure area.
Also read about their secure booking system in their privacy policy.
All online travel agents worth their salt will have a secure booking system in place. The system is called SSL which means Secure Socket Layers which encrypts your personal details so no one else can see them.
Never just dive into booking your holiday without checking. You might be sorry.
USA Online travel agents
If you are living in the USA, visit the American Society of Travel Agents - ASTA, to check that online travel companies are listed.

About our favourite online travel sites

---

Our personal best online travel sites display all the above credentials on their websites.
Some, are household names and been in the travel business for many years.
We have never had any problems with any of them.
They have been...
Reliable
Trustworthy
Hold appropriate licenses
Have a secure booking system
offer a financial guarantee that your holiday is insured if the company should go out of business

Our best online travel sites for Cyprus and more...

---
The Co-op Travel is a household name and has been around since 1920.
We have used them on a regular basis for many package holidays and flights to Cyprus.
They are partnered with some of the best UK travel companies.
Check for the 5% discount offer if you book a holiday to any destination online. View View The Co-op Travel website
Olympic Holidays have been around for 40 years. They offer holidays to Cyprus, Greek Islands Turkey and many more destinations.
We have booked many of our holidays to Cyprus and Greece with Olympic holidays. More often than not Olympic came up with the best deals.
Tip - You've got to check their site regularly to catch the cheap deals.

Questions asked by site visitors

---
We have answered many site visitors questions about online and offline travel agents. We have included them here for you to read.
We are happy to answer your burning questions. So don't be shy or think your question is stupid.

Can you tell me the different between a high street and online travel agent and a tour operator?

---
High street travel agencies sell full package holidays, flights, hotel bookings, car hire and cruises on behalf of specific travel and tour companies.
The travel agent employees are sent on fact finding breaks, so they can give you personal tips and recommendation for local resorts, hotels, things to do, local trips and places to eat.
Nice job if you can get it!!
Sadly, the personal touch high street travel shops are starting to disappear, because around 80% of us book our holidays, flights, hotels and travel insurance online.
Online travel agencies.
There are several types of online travel agents...
Individual travel and tour company
Group of travel companies who work together under one group name and...
Travel search engines where you can compare and find the lowest prices offered by 100s of travel agents across the internet. You just do one search and the search engines does all the work. It's a really quick way to find cheap holidays, flights and hotels.

When you choose a holiday you book directly on that travel agents site. So simple a fast!!

Tour operators offer you the whole holiday package. Including...

flights, holidays, hotels, airport transfers to and from your resort hotel

local tour representative who meet greet and support you throughout your stay.

This is all included in the price of your holiday

They also offer local trips and adventures. You choose the trip and pay the local tour operator's representative.

Do online travel agents offer cheaper prices than the high street?

---
Online travel companies have a much larger audience on the web. Therefore, can offer more special offers and discounts if you book your holiday online. Many offer a discount if you book online.
Other advantages of booking online, You have total control of choosing your perfect hotel Selecting which airport you wish to fly from, – there maybe some restriction though.
For instance, some tour operators may only fly from a certain number of airports.
You can also read online reviews written by real people who have stayed at the same hotel and resort that you are thinking of booking.
I think that's one of the greatest advantages of booking online. You can find out everything you want to know beforehand.

What are the risks of booking with an unknown travel agent online?

---
If you're worried about booking a holiday with a not so well known travel company, here's my advice.
Don't take risks with your hard earned money, which could vanish into thin air!!
Do some homework first...
Check their site for the official licenses and certificates I mentioned above. And… check for their guaranteed financial security if the agent suddenly collapses.
If it's a UK travel company, visit ABTA website. They have a Find a Member search box on the home page. Enter the name of the travel agent into the search box and click. If they are not a member, personally I would not use them.
You can also do a search on the internet to find good and bad reviews about the travel agent.
You can use the search box below...
If your still not happy, don't risk booking your holiday and losing your hard earned money.
---
Custom Search
---
Can you trust discount online travel agents?

---
There are many well known discount online travel sites around. Lastminute.com
and MyTravel
are just a few that come to mind. They are well established online.
If you are concerned about a lesser known discount travel site, follow my instructions above to check their credientials and find reviews written by others with personal experience of using that agent.
If you still have doubts...don't risk it!!!

Do you know any online travel agents who offer cheap flights?

---
In our experience, Skyscanner flight search find the lowest prices for flights from 100s of companies in real time - meaning, the price they find is current. It's a really quick way to find a cheap flight Skyscanner flight search
How to guarantee you have a great holiday

---
Read reviews written by real people who've been there before you. Tripadvisor is the biggest travel holiday review community on the internet


Check the latest Cheap Holidays to Cyprus

Top of Best Online Travel Agents
  
Back to Cyprus Keys Home Page

---
Custom Search
---