Cheap Cyprus Holidays
We know that trying to find cheap Cyprus holidays has
become really difficult since the global economic meltdown.
Our family have taken many holdiays to Cyprus over many years. We have learnt through those experiences which travel agents offer the cheapest holiday deals.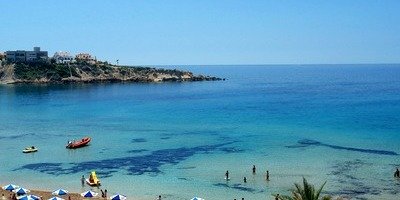 Gone are the days when holidays prices got cheaper and cheaper the closer the departure date. Not anymore!
Now, you really need to be on the ball to catch the latest holiday deal before it expires! To find the latest live deals for cheap Cyprus holidays check out
Thomson - Special Offers
Essential Tip
When travel agents and tour operators announce offers like a last minute holiday to Cyprus, the time frame to catch that deal is very short, sometimes just a few hours.
If possible try to check when the offer ends. Its usually tucked away at the bottom of the page!
I can help save your precious time and effort looking for cheap Cyprus holidays. Take a look at...

My top 6 travel agents for cheap Cyprus Holidayss
Here are some of the best travel sites to find cheap holidays to Cyprus.
Mytravel is a UK Travel Site offering the best discounts on holidays to Cyprus.
On the day of writing, prices start from £156. Remember, prices flunctuate on all travel related produces! latest deals at MyTravel
Please Note
When you get to the home page, look at the right hand side of the screen for the current lowest prices for Cyprus.

2. Olympic Holidays Specialise in Mediterranean Destinations including Cyprus. Their offers are usually worth looking at. Check their Cyprus holidays packages.
If your looking for a last minute Cyprus holiday, prices start from £ 189. You will find their latest offers on Olympic's Home Page

3. Co-operative Travel You have most likely heard of the Co-op, You may not know they have been in the travel business since 1920. They are at the top of travel industry and won the National Travel award 2010. They are very savvy when it comes to special offers, discounts and last minute deals. Click to view Late Deals at the Co-op

4. HostelBookers I know what you're thinking! Don't be put off by the name. The term "hostel" brings visions of drab dorm type sleeps.
Trust me..., you will be very surprised to see that hostelbookers offer many types of quality, low cost bed and breakfast accommodation, guest-houses, cheap apartments and budget hotels.
As well as flights, tours & activities. When I first came across their website, I was amazed how low prices were. Take a peak at HostelBookers and see for yourself.
Top places to find cheap flights to Cyprus

compare all travel agents with one click
The Fastest Way To Find Cheap Cyprus Holidays is to compare
Here's were you can compare prices for 1000s of holidays from the top UK online travel agents and tour operators all in one search Henoo.com lets you compare and save use the holiday search box below...

A gentle reminder...don't forget your holiday insurance! Get a quote now from Essential Travel Insurance
A Few More Tips
If you can't find any cheap Cyprus Holidays this time round, come back and check regularly. As I said above, prices fluctuate on a daily basis.
Subscribe to my Free RSS Blog
Be the first to receive site updates including special offers and last minute deals.

Just click on orange button on the left.

If your not sure what RSS is, click on the ? question mark beside the orange buttom for an explanation.

Then you will receive the latest new pages added to the site and any new updates.

Alternatively, add this page to your favourites or bookmark it.

Happy surfing!!
Check out the great ideas on these pages...

How to Find Cheap Flights to Cyprus

Cheap Car Hire in Cyprus

Learn about the Currency of Cyprus and Exchange Rate

Top of Cheap Cyprus Holidays

Back to Cyprus Home Page