Cyprus Homes for Sale
Property for Sale in Cyprus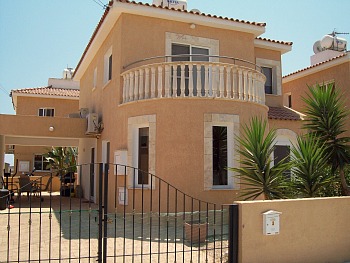 Current Cyprus Homes for Sale
Top Quality Resale Cyprus Properties offered by owners, Southern Cyprus Only!
We have personally inspected all these properties to make sure you only view the best quality Cyprus homes for sale.
If you like property you see below just click on the - more details link or the property image. You will be taken to that property page.
The list below is a selection of current resale properties in Cyprus. If you are looking for a particular type of property I am happy to help. Just contact me

List of Cyprus Homes for Sale
Just Arrived!! Quality Cyprus property for sale, 3 bedrooms, 2 shower rooms, 1 large bathroom. Link detached resale cyprus villa, built by good local cyprus property developers.

Ideal property to buy as a permanent residence or a Cyprus holiday villa.

Note… sharing the cost of maintaining a communal pool is much cheaper than having a private pool. View Cyprus Property for Sale

Just Arrived!! Town house property for sale by owner in Xylofagou. 2 Bedroom, offered fully furnished with satelitre tv and a car. 1 of 3 townhouses.

Situated on a quiet private residential road in Xylofagou. It has a patio area at the front and another to the rear which both offer views across open countryside. View Town House Property for Sale by Owner

Affordable Cyprus Apartment in Liopetri. Fully furnished, 2 double bedrooms, large bright living area, communal pool, 5 minutes walk into town with many amenities.

Larnaca Airport 30 minutes, Ayia Napa 10 minutes and local beaches of Potamas/Liopetri and Agia Thekla are 10 mins drive. View Cyprus apartments for sale

Delightful, fully furnisded, 2 bedroom bungalow for sale, with a larger than average private pool. Situated in a quiet residential area which is only a short 5 minutes walk into Xylofagou town centre.

Larnaca Airport is 30 minutes drive, Paralimni 20 minutes and the popular resort of Ayia Napa 10 minutes... more details for Cyprus bungalow for sale

Immaculate 3 bedroom detached cyprus villa with private pool for sale by owner in Southern Cyprus. Located in Xylofagou, 30 minutes Larnaca airport.

Situated in a quiet residential area and a short distance from all the usual amenities of a large village. View this Cyprus villa for sale

Spacious 3 bedroom Cyprus Home for sale with private pool in Xylofagou, large open plan living area, understairs closest. Spacious outside bbq dining area, sunbathing area with electronic awning

This detached property is situated in a quiet residential area, a short distance from all the usual amenities of a large village. View this Detached Property for sale cyprus

Luxury Properties for sale!!

Beautiful Ayia Thekla Villa, 3 minutes walk to the beach Three Double Bedrooms, large private swimming pool, spacious outdoor bbq and dining area, large sunbathing space, pool side shower, undercover parking to one side. Ideal luxury property if you want to buy Cyprus holiday villa.

Immaculate condition inside and out and mature trees around the property and pool, must see to appreciate. More details on this villa for sale in Cyprus

This Cyprus beach apartment is located on Mackenzie Beach in Larnaca a Blue Flag Beach. 2 bedrooms, open plan living area with magnificent seaviews. You can literally walk from the apartment building, through the garden and straight onto the beach.

The apartment has its own undercover car parking. A real investment property in Cyprus for those who love the beach. Being sold fully furnished. More details about this property in larnaca
If you prefer to extend your search on the internet I have placed a google search box at the bottom of the page for your convenience.
Just type your search term, click the search button and away you go.
But before you leave...
let me just say..., thank you for stopping by and I hope you'll come back again to see new site updates.
Why not subscribe for free to my RSS feed. Just click on the RSS buttom on the left of the screen near the bottom. You will be the first to see new and updated pages.
Happy Searching!

Quickly find the information your looking for here!
Custom Search

No Cyprus Real Estate Agents are involved in selling any of these Cyprus homes for sale
All the best. Catherine
Thanks for stopping by ...

View Luxury Ayia Thekla Villa for Sale


take a peak at some Property for sale in Cyprus

Cyprus Apartments for Sale

Bungalow for Sale in Cyprus

Top of Cyprus homes for sale

Go to Cyprus Home Page