Greek Pizza Recipe
An Authentic Greek Recipe
My Family Love!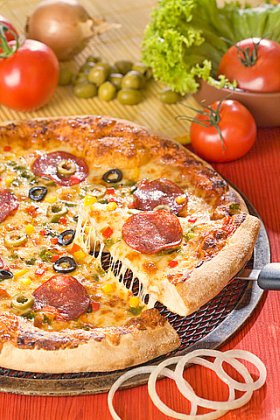 Homemade greek pizza recipe.
Making your own pizza is so satisfying and much tastier that store bought. And...
This Greek Pizza recipe is really light and very yummy.
About the dough
Store bought dough is great for making super quick greek pizza. Although I find some are a bit sweet.
If you have the time, make your own, it is so much better. It's like comparing freshly baked bread from a bakery to buying a loaf from the supermarket. It does take time and effort. But it's well worth it.
The amount of dough for this Greek Pizza Recipe is enough for 2 thin pizza bases. So there's enough left over to freeze for a quick pizza next time.
Freeze the second base after kneading or make two pizza with topping. Let the second cool, put in a freezer bag and pop it in the freezer.
When you fancy a quick dinner, pop the frozen pizza in a hot oven for about about 20 minutes. No need to let it thaw first.
About the Cheese Topping – use feta, halloumi, or mozzarella
Basic Pizza Dough Recipe Ingredients
Tip
If you decide to use quick bake yeast, follow the instructions on the packet. I prefer the process below. It may take longer, but I think it is much better for making pizza dough.
¼ pint lukewarm water 27c max
2 level tsp dried yeast
1 level tsp sugar
8oz plain flour
1 ½ level tsp salt
1 tblsp olive oil
Pizza Dough Preparation
1. Pour the lukewarm water into a bowl 2. Add the sugar and sprinkle in the yeast.
Whisk the mixture with a fork until yeast and sugar dissolve. Allow the mixture to stand for 10-15 minutes, preferably in a warm place until froth develops on the top.
3. Sieve the flour and salt into a large bowl,
4. Make a well in the centre and add a tablespoon of olive oil.
5. Pour in the yeast mixture,
With lightly oiled or floured hands – if you don't mind getting messy - or gently combine the flour and yeast together until it forms a dough ball.
6. Sprinkle flour on work surface and tip the dough onto it.
7. Gently knead the dough.
If you're not sure how to knead, gently pull the edge farthest away from you and then fold into the centre and push down with the heel of your hand. Rotate the dough and continue to do this for about 5 minutes until the dough becomes smooth and not sticky.
8. If it's sticky, sprinkle the dough with a little flour and and knead again for a few minutes to incorporate more flour.
9. In a clean bowl, sprinkle a little flour or lightly coat with olive oil.
10. Place the dough in the bowl. Cover with a damp tea towel and leave it in a warm place until it doubles in size, approximately 30 minutes – depending on the room temperature.
11. Preheat oven to 175c
12. With a little oil or flour on your hands gentle lift the dough out and place it on a floured surface. Gently push the dough down. Why?
It releases the big air bubbles which make the pizza base uneven.
13. Now is the time to divide the dough in two. Gently pinch down the centre of the dough with your fingers and separate in two.
14. Form the dough into a circle about 12 inches in diameter. Place it on a baking tray.
Now... let's put all the toppings on.



Greek Pizza Topping Ingredients
When it comes to meat toppings, use which ever kind you like. We like garlic sausage and salami.
Appox 4 tblsp Passata or Tomato Puree - enough for a thin layer
2-3 slices ham chopped
1-2 spicy garlic sausage thinly sliced (your choice)
10 deseeded black olives chopped
Grated hallouni or mozarella
Crumbled feta cheese
Chopped spinach leaves
1 sliced onion
2 tblsp Parmesan Cheese
1 tsp dried oregano
Spread the passata or tomato puree thinly on the dough.
Sprinkle half the ham and spicy sausage over the pizza base. Leave enough to decorate the top of the pizza.
Spread the halloumi or mozarella cheese over and place onion slices, olives, spinach pieces.
Now sprinkle some fet, parmesan and oregano over the top.
Decorate with more meat and sliced mushrooms. Drizzle a little olive oil over the top and your done.
Place the pizza in the middle of a hot oven 175c for about 20 minutes depending on your oven.
Remove when the pizza is starting to brown and the cheese is nicely melted.
Serve sliced on it's own or with some fresh coleslaw and crispy homemade potato wedges.

Do you have a favourite greek pizza recipe?
Share it with us and have your recipe featured on the site
Don't be shy! Add your recipe below.
In the meantime, I hope you enjoy this greek pizza recipe.
Have A Yummy Greek Recipe to Share?
Your Invited to Share a Greek Recipe Here!


You may also like these popular pages...


Homemade Gyros Recipe

Delicious Lamb Kleftiko Recipe

Top of Greek Pizza Recipe

Back to Main Greek Recipes

Go to Cyprus Keys Home Page

---
Custom Search
---