Homemade Greek Stifado Recipe
Stifado is a slow cooked beef stew combined with shallots, fresh tomatoes and a wonderful combination of red wine, cinnamon, cloves and garlic which gives this beef casserole a very distinctive flavor.
Authentic Greek Stifado, is the best greek style slow cooked casserole.
My family love it!.
Here's our homemade version of this traditional winter stew made in Cyprus by Cypriots and Irish Me!
Try it for yourself…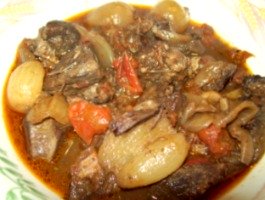 The combination of Vinegar, Cloves and Cinnamon are pretty powerful flavours.
I suggest you try a little bit of each to see how you like it first.

Find the right amount according to your taste. If you don't like any of these ingredients, just using red wine gives a great taste too.
As an alternative, try a little allspice or nutmeg.
I also like to use baby vine tomatoes as the sweetness blends really well with the spices.
Tip for Peeling the shallots

Shallots are very fiddly to peel, here's a quick away for you.

Put the shallots in a bowl, pour boiling water over and leave for a few minutes.

When they have cooled a bit, pour off the water and the skins should easily peel away.




You can use the same method to peel tomatoes if you prefer them skinned when cooking a dish.
Ingredients
Serves 4

1 Kilo Lean Stewing Beef Cubed
½ Kilo of Shallots or Small Onions
2 glasses Red wine
1-2 Tbsps White Vinegar – Cypriots use Red Wine Vinegar
2-3 Bay leaves
2-3 tbsps Olive Oil
1-2 Cinnamon Sticks or ½ - 1 tsp powdered cinnamon
2-4 Garlic Cloves crushed (more or less - your choice)
2-4 Cloves (optional)
Small sprig of fresh rosemary
½ Kilo Baby or Medium Vine Tomatoes
2 -3 tbsp tomato puree
Ground Salt to your taste
freshly boiled water approximately 1 litre for cooking the stew
Let's cook this succulient Cyprus beef casserole!

Preparing...
Get all the ingredient ready before you start cooking, it makes the process much quicker
1. Heat 2 tbsps of olive oil in a large deep pot
2. Add the meat, turn up the heat to medium and stir fry for a few minutes to brown and seal beef on all sides.
3. Now turn the heat down a little, add shallots and cook for about 5 minutes until their browning and slightly softened.
4. Add the crushed garlic, stir well and cook for a further 2 minutes
5. Add the red wine and 1 tbsp of white or red wine vinegar if you choose to use it.
6. Now put the lid on and let it cook for about 5 minutes
7. The next step is to add the bay leaves, cinnamon and cloves (if using) and keep stirring to combine everything
8. Now add the vine tomatoes and stir through
9. When everything is combined add the tomato puree, mix well.
10. Lastly, add enough boiled water to cover the contents stir well.
Lower the heat to a gentle simmer. Pop the lid on again and simmer the stifado until the meat is soft and the fluid has reduced to a thick sauce. Approx 2 hours depending on the meat.
Note; If you need to add more water at a later stage of cooking, only use a little at a time. You don't want to dilute the flavors.

Serving Suggestions
Serve Stifado with;

Boiled, Mashed Roast or Sauteed
Potatoes and Fresh Steamed Vegetables

Garlic Wedges (link create page)

Boiled or Steamed Rice

Fresh Crusty Bread or Garlic Bread


Enjoy!








Alternative Cooking Method
For a really slow cooked Stifado, transfer the mixture from the pot to a casserole dish with a tight fitting lid and place it in a pre heated oven set at a low temperature of 150c.
It may take an 1-2 hours longer to cook but it's soooo worth the wait.
Want a Quick Recipe?

Cook it on the BBQ

If you have a BBQ with a pull down lid. Transfer the mixture into an enamel casserole dish with a tight fitting lid and cook on a low setting.

Many other site visitors also liked...






Homemade Lamb Kleftiko
Return to top of Stifado Recipe
Back to Greek Recipes Page

Go to Home Page