gyros recipes
Greek Gyros Recipes, free and easy authentic Greek recipes. One of many Greek food recipes our family love. Mediterranean food is so delicious and healthy. Try this gyros recipe, it's one of our favourites.
What is a Greek Gyros?
Gyros are similar to Turkish doner kebab and the middle eastern shawarma. One of many really easy greek recipes you can make at home.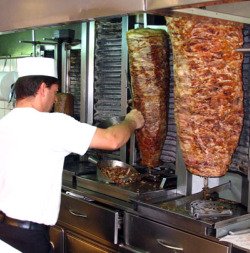 How gyros are made
In Cyprus, you can typically choose from lamb, pork, beef or chicken for your Greek gyros or a mixture. Lamb is so expensive these days many restaurants and snack bars don't always use it.
The meat isn't highly processed like in some countries. Cuts of pork, chicken or beef are built up on the vertical rotating skewer. The only addition to the formed meat is some fat between to keep it moist.
When gyros are prepared at greek restaurants, snack bars or in some other countries, the meat is cooked on a vertical rotisserie. When the outer layer of meat is ready, it becomes crispy. This out layer is then thinly sliced for the gyros.
The meat is traditionally served in a flat round pitta bread or pita pocket with tomato and onion salad and tzatziki sauce. Some snack bars and restaurants also add freshly made chips.

I make a homemade version of Greek gyros. I don't have a vertical rotisserie so I use thinly sliced chicken or pork marinated and grilled.

My favourite Greek gyros recipe is made with chicken. I like to have a glass of Cypriot Wine with it! Yummy!

I hope you enjoy this gyros recipe as much as my family do.







Making Greek Gyros Recipes at home
Ingredients
4 Servings
2-3 Chicken Breasts
White wine vinegar - Tradionally, Cypriots use this,if you don't like vinegar use Fresh Lemon Juice
Greek Gyro Seasoning Marinade
1-2 tsps of freshly ground sea salt
1-2 tsps of sweet paprika
¼-1/2 tsps of fresh ground black or mixed pepper (your choice)
1-2 tsps sweet paprika
1tsp of Greek oregano – or ½ tsp of other makes – which are much stronger.
Pita Bread and Filling
1 flat round pita wrap – or a pitta pocket per person
1 medium onion sliced in rings
2-3 ripe tomatoes, vine if available
Small cucumber thinly sliced
Preparation
Combine the paprika, oregano, salt and fresh pepper in a small dish
Slice the chicken breast against the grain, wafer thin slices is what you need.
Note If using a small dish, layer the meat sprinkling some of the seasoning and lemon juice on each layer.
In a flat bottomed dish put one layer of chicken slices and sprinkle the gyros seasoning mixture, squeeze some fresh lemon juice or vinegar over the meat.
Cover and put in the fridge to marinate for at least 30 mins, a few hours in better.
If you have any seasoning left. Keep it in a storage jar till the next time. Or use it for other Greek recipes such as souvlaki or make your own oven baked potato wedges using this seasoning.
Cooking
You can cook the gyros meat in a dry non-stick frying pan, on a grill, bbq or put on a baking tray and oven bake until the edges start to crisp, it only takes a few minutes. I prefer the grilling option.

Putting your Greek Gyros together
Warm the pita bread on a grill, in a dry frying pan or if your using a bbq to make your gyros pop them on it.
I like the barbeque method as it adds a bit of flavour to the pitas. It only takes seconds to warm them through. You want the pitas warm and soft not crispy. Turn a few times to make sure they don't suddenly burn. It happens!
When the pitas are ready,
Spread some tzatziki around the centre of the pita.Arrange some chicken in the middleAdd a few slices of tomato and cucumberAdd slices of onionAdd a little salt to taste and extra seasoning - if you wish
Fold the pita bread into the centre and tightly wrap in greaseproof paper.
Serve on its own, with salad fresh chips or – my favourite garlic wedges

Enjoy, oria - as they say in Cyprus!

Alternative meat choices for Gyros - Pork, beef or lamb

Alternative sauce, Greek hummus.

I really hope you enjoy this gyros recipe









share a greek recipe
---
Do you have a favourite greek recipe?
Have your very own special recipe page on my site.
Don't be shy – Share!

Have A Yummy Greek Recipe to Share?
Your Invited to Share a Greek Recipe Here!


my favourite greek recipe books...
Make a quick Tzatziki Sauce