Authentic Cypriot
Brandy Sour Recipe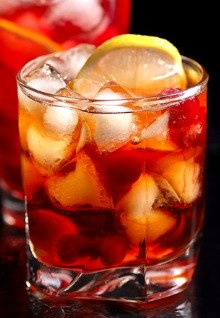 Cypriot brandy sour is a very refreshing and popular Cypriot cocktail. It has been the national drink in Cyprus for many years.
Most holiday makers who visit Cyprus try it at least once because it was always the cheapest alcholic cocktail drink in Cyprus.
Many pubs, clubs and hotels in Cyprus will make up a large jug for you if you wish to share it with friends, just like spanish sangria. Its not made with strong alcohol so it would take more than a few to get drunk depending on your level of alcohol tolerance.
About Cyprus Brandy
The reason this cocktail isn't powerful is because its made with Cyprus Brandy which is has a lower percentage of alcohol than other well known brands.
There are many variations of this Cyprus drink, but the unique mixture of Cypriot ingredients stand out from the rest.
This yummy drink was first created in Platres Village up on Troodos mountains for King Farouk of Egypt, who loved Cyprus and visited on a regular basis.
Very Interesting Fact
This Cyprus cocktail was made as an alcoholic alternative to iced tea! A clever way to disguise a Muslim royalty's preferred western cocktail.
The popularity of this Cyprus drink gradually spread to other hotels and bars. Then to popular resorts such as; Limassol, Paphos and Nicosia and Larnaca.
As Cyrpus became a more popular as a holiday destination and the British forces took up base in Cyprus, the Brandy Sour became the favour Cyprus drink because it was so refreshing and tasty too. Word travelled around the world which made this cocktail famous.
Try it for yourself…


Cypriot Brandy Sour Recipe
Serves 1
Ingredients
50 mls Cyprus brandy
25 mls undiluted lemon squash
25 mls lemonade
2-3 dashes Angostura® bitters
soda water


Preparation
Pour the Brandy into a long glass
Add the undiluted lemon squash, mix well

Add 2 dashes of Angostura bitters to each glass
Mix well before adding ice
Top up with soda water
Add slice of lemon and stir well
Enjoy your Brandy Sour, its great after a tasty Cyprus Meze!
Other visitor like these pages...
Try Homemade Greek Pizza Recipe

Easy Homemade Lamb Kleftiko Recipe

Top of Brandy Sour

Back to Greek Recipes

Go to Cyprus Home Page



---
Custom Search
---