Advertise Cyprus Property for Sale
Selling Property in Cyprus

---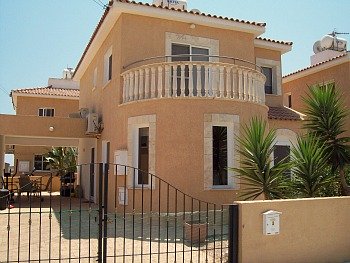 Have a resale Cyprus property for sale?
Looking for the cheapest place to advertise on the internet and still be found by prospective buyers?
No Problem! Your in the right place.
Promote your property here for much less than advertising with an agent.
Our advertising service is just for you!

The usual commission for selling property in Cyprus is very expensive.
For instance, estate agents fees on a sale start from 5%. That's a big chunk of your money!
We're all feeling the pinch in this depressed economic climate, last thing we need is to hand over a large chuck of money for advertising and commission.
Advertise your resale Cyprus home with us and SAVE BIG TIME!!

2 Ways to Advertise your
Cyprus Property with us...

---
Classified Advertising 10 Euros per month
Includes a 2 paragraph description and one photo

Full web page advertisement 65 Euros per month
A full page advertisement offers the best value for money. Why?
You can promote your property more effectively to prospective buyers by writing an indepth description and include up to 4 images.
How and when to pay for advertising
Payments are made through PayPal when we receive the content and image/s of your advert. Adverisements will not be published until we receive payment. If no fee is paid within 5 working days, we will delete your request.
Subsequent monthly payments to be receive on the same date each month from when your advertisement was first published.
Note... we only accept 1 private resale property per owner. No estate agents, marketing, promotional companies or developers please.
Our advertising service is for individual owners wishing to sell their property.
We reserve the right to refuse listing a property on our site
We also offer advertising for Cyprus businesses

Want to advertise a resale property?
Just fill in the short form below...


Learn How Advertising works on the internet
For Major Advertisers are found on the first few pages at Google they spend MEGA BUCKS!
Big Businesses spend millions on their internet advertising budget so we can find their site and not their competitors.
Words are expensive on the Internet - Keywords Explained
Anyone can build a webpage, website or a blog these days. Getting visitors to your site is an entirely different matter. You have to use the right Keywords and these keywords cost money.
The more advertisers want to use the same keywords or phrases the higher the cost. It's similar to the stock market, only it's a 24/7 market, the prices fluctuate around the clock.
Here's how they make a difference to your advertisement...
Let's say you're searching for Cyprus Properties for Sale, you would type this into the search box at Google.
The search results pages will be flooded with companies using this term and other related keywords. There usually shown in bold in the description.
For a website to show on the first or second page is a big achievement. But as I said previously it costs big bucks to get there.
The Good News
I don't need to spend that sort of money to get my site noticed. Come to think of it…
I don't have that sort of money anyway. I don't pay the high keyword prices, because I know how to get to the top without spending.
"How can she do that"?... I here you say.
Well I have been taught very well by the company I use to build my online business website.
I have learned everything there is to know about building a successful online e-business without spending a fortune to get noticed. Learn how to build a succesful online business with
To see an example of a full page advert just click any property image below.


One happy advertiser sent me the following compliment...
Testimonial

Dear Catherine,

I would like to sincerely thank you for helping us sell our Cyprus Property.

The information you gave to prospective buyers meant we didnt have to deal with 'time wasters' just genuine buyers who were serious about buying a property in Cyprus.

As you know the response we got from advertising on your website was tremendous and we could have sold our property several times over! Once again thank you for all your help. Kind Regards
John McGrath

Ever Growing Requests from Our Site Visitors

---
My site is expanding, gaining higher exposure - found on page 1 for many Cyprus related search terms at google.
Site visitor relationships are building and traffic is growing very nicely.
I receive many visitor enquiries on a daily basis, wishing to advertise their Cyprus property for sale and personal household items. We have just launched Free Personal Goods Advertising How I will promote your Cyprus property effectively.
I Will;
Research
Carry out Research to find the best high demand Keywords to use in your advertisement Use these specifically for your property promotion, achieving the best possible position on search results pages.
Build Your Full Page Advertisement
Create Fully Optimised Page Advertisement which will be Promoted Globally
Add a snapshot of your advertisement on the main property page on my site here
Prepare Images for the Web
Resize upto 4 images of your choice to a uniform size, upload to site and keyword optimise. For example; when you hover your mouse over the image a keyphrase title is displayed. This helps your property images get found at google image search. I get many visitors find our site through google image searches.
I will monitor the performance of your Cyprus Property advertisement and make amendments to keywords and phrases to optimise position, promotion and performance on a weekly basis.
Always keeping you informed is important to me.
If your interested just complete the Advertising Inquiry Form below.

Advertise House Items for Sale

Visit Business Advertising

View Cyprus Property For Sale on the Site

Back to Top of Advertising Cyprus Property

Go to Cyprus Keys Home Page