New Cyprus Site Search
Learn Everything About Cyprus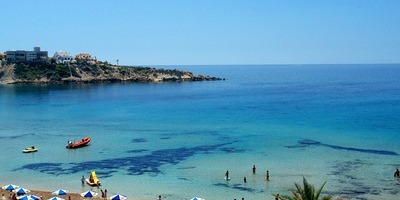 Our New Cyprus Site Search.
Our family's adventures across Cyprus span 30 years. We have experienced every aspect. Regular holdays to Cyprus, explored all over the island, stayed in 1 to 5 star accommodation. Bought a home and investment property in Cyprus. So...
Whatever you're searching for, I'm pretty sure you will find it here on our Cyprus website. Built to share everything about this beautiful island with you.
Here's a tasty snippet of what you might be interested in...
Read about all the resorts in Cyprus,
Get the latest deals on cheap flights and low cost holidays to Cyprus which are updated regularly.
You can view rental properties or private resale property in Cyprus.
Learn about the property buying process in Cyprus
Learn a few greek phrases and try some homemade greek cypriot recipes - all my own creations by the way. Try the Kleftiko, its so yummy!!
There are too many site topics to list here. That's where our new Cyprus Site Search can help you.
It's so easy to use and you will find everything your looking for on my site. If you can't find a specific topic, I would love to hear what it is. I would be happy to consider making a new page about it. Just tell me here

Be the first to see...
new pages, updates, latest offers or special news; just subscribe for free to my Cyprus blog. All you need to do is click the RSS button on the left.
Don't know what an RSS is? No problemo! Just click on the ? above the orange RSS button for an explanation.

In the Cyprus Site Search Box at the bottom of this page simply enter the word Cyprus or resort followed by what topic you want to find.
For example, if you're looking for pages about cheap accommodation or property on cypruskeysadvisers.net, just add the word, cheap accommodation or property after Cyprus or Resort Name. Or...
If you can't find what you want on my site, use the search box to search the internet from this page or any other on my site now. It's very handy indeed.
I just hope you'll come back to visit often….
Before you leave, I would really appreciate knowing if you like this page. If so, please click the Facebook Like button at the bottom of the page to tell your friends. Thank you in advance.
Happy surfin'
Bye for now... I hope!

---
Custom Search
---

You might like to view these popular Cyprus pages


Get the lastest deals on Cheap Cyprus Flights

Take your pick of 68 Popular Ayia Napa Hotels

Read about Archaeological Sites and finds in Cyprus

Top of Cyprus Site Search

Go to Cyprus Keys Home Page