Quick & Easy
Hummus Recipes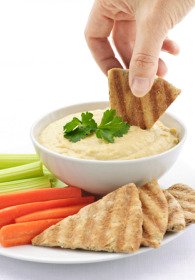 Simple Hummus Recipes
There are hundreds of different recipes for hummus. Many countries including, Arabia, Turkey, Greece and Cyprus, to name a few, have their own version.
This bean dip is very tasty and popular. Know the world over.
There are so many ways to enjoy hummus…
In Cyprus, it is served as an appetizer with meze - Kypros mezethes.
Try hummus with almost any meal – Your choice!
Enjoy it as a dipping sauce with
vegetables, pita bread good old fashioned chips... or anything you fancy
We love hummus as a dip with...
Fresh garlic wedges - Yummy! Homemade burgers Spread inside a Pitta Bread before filling with Souvlaki BBQ Grilled Chicken Leftover Lamb Kleftiko
Just follow your tastebuds!
A Few Tips About Making Hummus

Your the boss!
When making this recipe just remember your tastbuds. Always experiment with ingredients.
There are no hard and fast recipe rules.
Add more or less of any ingredient.

Don't like an ingredient try making hummus without it!

Use Greek Yoghurt instead of Tahini

Try white beans instead of chickpeas
Don't be afraid to experiment, it's half the fun!

Tips about Ingredients
Can't find chickpeas? Use garbanzo, white beans or greek yoghurt.
For best results, make a day in advance. All the flavours combine to make one of the most delicious and addictive greek dips ever!
Okay… lets make some hummus!
Ingredients
1 400g can of chickpeas, garbanzo or white beans drained
1-3 garlic cloves crushed
2-4 Tbsps of lemon juice
1-2 Tbsps of tahini
1-3 tbsp extra virgin olive oil
Salt to taste


Preparation
Blend all the ingredients in a food processor or blender.
If the consistency is too thick, add a few tablespoons of water, or add more lemon juice if you prefer a stronger lemon flavour.
Experiment until it tastes good for you.
How to Serve
When you're happy with the taste,
Place the hummus into a serving bowl.
Drizzle a little Extra Virgin Olive Oil over the top.
Garnish with some finely chopped fresh coriander, parsley or sprinkle a little Paprika on top.
Serving suggestions
For a Snack or Appetizer Dip...
Serve with,
Sliced carrot, cucumber, peppers...
Toasted Pita Breads - sliced into quarters
Side Dish to a Main Course
Try hummus with... Greek Lamb Kleftiko,


More Hummus Recipes
Spicy Hummus Recipe
If you like a little spice, add a finely chopped red or green chili after blending all other ingredients. Just give the mixture another whizz!
Roasted Red Pepper Hummus Recipe
For this hummus recipe, you can either buy a jar of roasted red peppers or…
if you have time, roast the peppers yourself – fresh is best!
Preparation
The only difference with this recipe is that you combine all the other ingredients before adding the roasted red peppers. Just whizz the blender again until the peppers are well combined.
1 can chickpeas drained - or garbanzo beans
1-3 garlic cloves (more or less) crushed
2-4 Tbsps of lemon juice
1-2 Tbsps of tahini
1-3 tbsp extra virgin olive oil
Salt to taste

Combine the chickpeas, garlic, tahini and lemon juice in a food processor or blender until smooth. Add finely chopped roasted red peppers and combine until smooth.
For Roasted Garlic Hummus Recipe, just whizz garlic into the basic blended ingredients… Simple!
Here's some tasty recipes to have with hummus.
Here's some tasty recipes to have with hummus...

Pork Souvlaki

Greek Gyros

Greek Salad & Pita Bread

Top of Hummus Recipes

Back to Home Page