Aphrodite Greek Goddess
her link with cyrpus
Aphrodite greek goddess of love is known worldwide as the goddess of love. Known as Venus in Roman.
Doing a search for Aphodite brings back over 29 million results. Isn't that Astonishing!!
When you look at the results, not only does it include Greek mythology but many other surprising things which use the name Aphrodite.
Like designer clothes, DJs, Aphrodite hotels and holiday resorts, a waterpark, bridal wear, Aphrodite party dresses, Cyprus wedding services, and even Aphrodite chocolates!!
People are fascinated by Aphrodite's life, lovers, children and her beauty.

She is adored so much by the Cypriots, a picture of an almost nude Aphrodite is printed on new passports. Naughty!!

Mythology says, her life began in Paphos Cyprus.
According to Greek mythology, Aphrodite rose from the Mediterranean sea not far from Paphos which nowadays is one of the most popular resorts in Cyprus.
Every year millions flock to Paphos to see all the amazing historical sites. Including Aphrodites birth place, baths, temple and other stunning archaeological sites.
We have visited Aphrodite's birth place many times over the years. Everytime, we find the scenery breathtaking.
The sun dances across the crystal clear blue sea which surrounds Aphrodites rock - greek name; Petra tou Romiou - where mythology says she was born.
There is a pebble beach where many people go to enjoy the view, take photos and swim around aphrodites rock which according to mythology will bring you luck. We have'nt tried it. Let me know if you have.
Aphrodites' Rock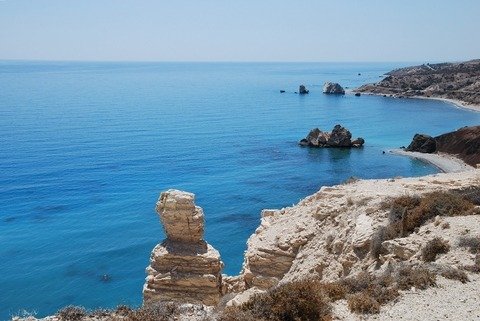 Where is Aprodite's Rock?
On the main Limassol to Paphos road.
You can park across the road and enjoy the view from a height or walk down to sea level for a closer look, soak up the atmosphere and a few rays!
Just 1 Km away from Aphrodites birth place is the awesome Aphrodite Hills Hotel and Resort
Learn More facts about Aphrodite
goddess of Love
Who was she exactly?
There are a lot of stories about Aphrodite and her colourful adventures.
The amazing beauty of Aphrodite Goddess of love was unequalled.
Wooed and worshipped by men across all religions and has had many evolutions that spread throughout countless cultures in the whole history of the human race.
Who were the men in her life?
Aphrodite was a very busy lady when it came to men. She had many affairs in and out of married life.
Some affairs were pretty serious, odd, funny and some had tragic consequences.
Top 10 Men in Aphrodite's Life outside of Marriage
Anchises

Adonis

Ares - her favourite

Hermes

Poseidon

Zeus

Dionysus

Nerites

Phaon

Phanethon
What about Children?
Aphrodite had many children out of wedlock. But, most interestingly she never had any with her husband Hephaestus. Very sad indeed!

Here are some of Aphrodite's children she had with her lovers.
Phobus

Deimus

Harmonia

Hermaphroditus

Priapus



So there you have it... Beautiful Aphrodite Greek goddess of love is a very interesting goddess to read about. No wonder so many people are interested in her life. She had a very busy time, don't you think?
You can learn more about the birth of Aphrodite here

Top of Aphrodite Greek Goddess Page
Read more about Aphrodite Hills Resort