Greek Dolmades Recipe
Easy Greek Recipe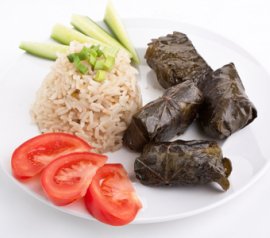 This dolmades recipe, also known as stuffed grape vine leaves is a really easy Greek recipe and tasty Cypriot version I make at home for my family.
We are lucky enough to have fresh grape vine leaves during the summer time in Cyprus.
You will probably need to buy vine leaves in the supermarket. They are widely available and you should find them in the Mediterranean food section.
Try to buy the leaves in a glass jar, as the flavour isn't tainted like it might be in a metal tin.
In Greek, dolmadaki comes from the turkish word Dolma, meaning filled or stuffed. The Greek ending "aki" means little ones.
If your serving dolmades as a greek appetizer, 3-4 stuffed vine leaves are enough per person. Although, I usually prepare more leaves so I can use up all the stuffing mix. If there are leftovers, just freeze the rest.
Easy Greek Dolmades Recipe
Ingredients
1 jar of vine leaves
8 ozs cooked long grain rice
1lb minced pork
1 large onion finely chopped
2-4 crushed garlic cloves
2-3 finely chopped tomatoes
4 tblsp finely chopped parsley
1/2 pint of chicken stock
2 tblsp olive oil
Preparation
Boil enough water in a large pot to cover the vine leaves. Pop the leaves into the water and simmer for about 2 minutes. Your basically just blanching them.
Drain the leaves. Place on kitchen towel to soak up any water.
Prepare the Filling
Pour a little olive oil into a frying pan, lightly fry the onion and garlic for 2 minutes.
Add the minced pork and cook until it is lightly browned and separated.
Add the chopped tomatoes and continue to cook for 5 minutes.
Now add the chopped parsley, mix well and cook for 2 minutes.
How to Stuff Your Dolmades
Spread a vine leaf out on a chopping board with the back of the leaf facing upwards and the stem at the top.
Place a heap tablespoon of stuffing on the bottom middle leaf.
Roll the leaf tightly inwards turning in the side leaves as if you were wrapping a present.
Place them in rows in a flat bottom pan, making sure they are touching each other. This stops the dolmades from moving around which will lossen the wrap while cooking. You don't want your stuffing to fall out!
Now make a 1/2 pint of chicken stock and slowly pour it into the pan. Place a dinner plate onto of the dolmades to keep them in place.
Simmer for 30 minutes.
Serve with some tzatziki sauce.
I hope you enjoy this greek dolmades recipe.
Do You have a Favourite Dolmades Recipe?
Have you got a favourite stuffed vine leaf recipe or other greek recipe. We would love you to share it with us and other visitors.
Don't be shy, share! Just add your recipe below.
Thank you in advance.
Catherine
Have A Yummy Greek Recipe to Share?
Your Invited to Share a Greek Recipe Here!



Try Healthy Hummus Recipe with Dolmades

Top of Dolmades Recipe

Back to Main Greek Recipes Page

Cyprus Home Page