Ayia Napa Resort
Ayia Napa Resort
Ayia Napa or Napa as its known locally, is a famous Cyprus holiday resort.
Every year, tens of thousands of holiday makers flock to this buzzing resort.
Known as a family friendly and fun lovers paradise. The safe, clean, Mediterranean Sea and soft white sandy beaches are so inviting.

Resort Location
Ayia Napa resort is located on the east coast of Southern Cyprus.
Closest Airport
Larnaca Airport, is 40 minutes drive from Ayia Napa.
Ayia Napa Blue Flag Beaches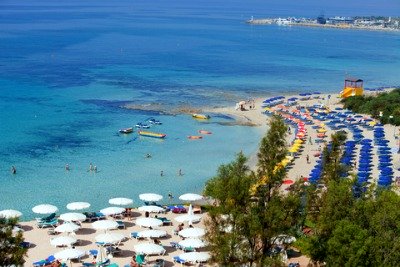 All the beaches in Ayia Napa have the EU Blue Flag Award for being very clean and for having great facilities.
Nissi beach is the most popular. It does get very busy during the summer months.
The Harbour Beach is very long. It has lots of restaurants, bars and shops. Its very popular and suitable for families with young children.
Ayia Napa Resort has lots of fun activities on offer for everyone. From taking your children paddling in the shallow clean water to paragliding!.
Here are just some of the water sports to experience…
Top Activities including…
water-skiing
paragliding
wind surfing
scuba diving
snorkling
jet skiing
boat trips
canoeing
paddle boating
hire motor boats

Ayia Napa Water Park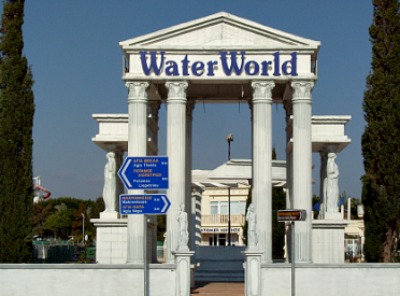 International award winning Water world is a famous water park located in Ayia Napa.
If you love water parks, Water world is worth a trip, as long as you don't mind getting wet!.. You can pick up a leaflet at your hotel.
There is a regular bus service to and from the park. Check at your hotel reception or ask locally for a Water world leaflet
Ticket prices are a bit heavy!... 33 euros per adult and 17 euros per child.. Check their website for current discounts here
Boat Trips from Ayia Napa Harbour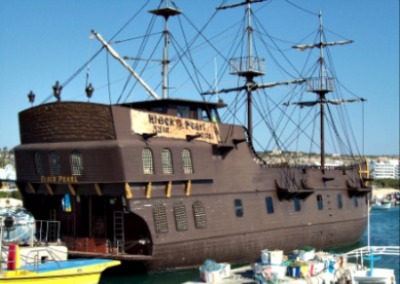 Ayia Napa harbour is where you can take many different boat trips. There's even a pirate theme ship, just like the one featured in the Pirates of the Carribean films.
And the crew dress up as pirates too! Actually, we where in Ayia Napa the other day and seen what we thought was Johnny Depp dressed up as his character Jack Sparrow. The guy was the spitting image of him!!
During the holiday season, there are lots of boat trips to choose from. Take a walk along the lovely promenade and choose which boat trips you would like take. The prices are fairly cheap.

What to See
The Historic festival of Cypriot culture and traditions, held at the old monastery in Ayia Napa, which dates back to 1500AD.
Cape Greco, a protected nature park is located between Ayia Napa and Protaras, only 10 minute drive from Ayia Napa centre.
A great place for walking, hiking and cycling.
Take your camera, the views are awesome!
I was overwhelmed by the crystal clear turquoise blue water at Cape Greko.
We took this photo of the Natural Bridge. Yes... the sea really is that blue!

If you get hungry, there are a number of snack bars and restaurants around the area.






Or take a packed lunch and use one of the picnic areas available with beautiful sea views.

Eating out in Ayia Napa
Greek Cypriot Dishes

| | | |
| --- | --- | --- |
| Moussaka | Fresh Pizza | Stifado |
Whatever your taste in food, you will find it in Ayia Napa, from a big mac to 5 star restaurants. Take your pick of international cuisine. Be sure to try traditional Cyprus Food, especially a Cypriot Meze.
Shopping
Designer Boutiques, Leather goods, souvenir shops, buy your designer sunglasses.beautiful jewellery shops, 24/7 bakeries,
Cypriot Handcrafted goods such as detailed lefkara lace pieces, created by local Cypriot ladies. Beautiful Pottery,
Don't forget to try some of the local Cyprus wine and Cyprus brandy.
Most shops are open until around 11pm during the holiday season which is April to October.

Nightlife in Ayia Napa Resort
Ayia Napa is famously known international to many young people as a party resort due to the many nightclubs. Famous International DJs fly in during high season to do their thing.
Ayia Napa Party Time
Most of the night clubs are situated on The Square which is in the centre of Ayia Napa. If you like to party til early morning, The Square is the place for you.
For families...
Many Hotels in the area have their own kiddies clubs, resident entertainers, pool games etc. They also hold themed evenings such as greek nights with cypriot dancing and traditional greek cypriot food.
Many tour reps put on shows for hotel guests too. They can be absolute hilarious!

Hotels in Ayia Napa Resort
There are so many great budget to luxury hotels, apartments and self catering accomodation in Ayia Napa its really hard to choose.
You can View 68 hotels in Ayia Napa here
or go straight to Check prices for 2-5 Star Ayia Napa Hotels and budget accommodation here
Cheap Cyprus Holidays

Explore Our Pictures of Ayia Napa

Read about Cyprus Beaches

Top of Ayia Napa Resort

Go to Cyprus Home Page