Family Friendly Protaras Resort
Great Protaras Holidays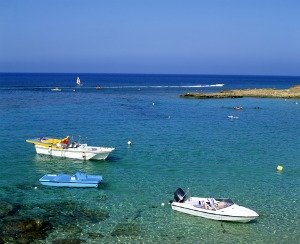 Protaras Resort in Cyprus is great for young families. Everything you need is very close at hand.
Many restaurants, snack bars, playgrounds and the white sands of Protaras beaches are first class for cleanliness.
The clear waters are shallow and very safe for your young children to paddle, play and swim safely.

Closest Beaches in Protaras
Fig Tree Bay is the most popular and safe for toddlers to build sand castles.
Green Bay Beach is great for lazing around and catching some rays.
Cape Greko, a protected nature park is 10 minutes by car or you can take a boat trip from Protaras. It is a beautiful area to visit with awesome views.

About Protaras Resort
There is a lovely, happy atmosphere in Protaras. The Cypriot hospitality really shines through in the local restaurants and bars. They are very helpful and family friendly too.
At the centre of Protaras resort, the main tourist area has been updated over the years.
The streets are beautifully paved. Restricted driving speeds are in place using purpose built speed ramps. Safety is paramount in the area to ensure that young children are kept safe.
What we like about the centre of Protaras resort is the many shops, restaurants, bars and play areas are within walking distance of the centre strip, as it's called.

Facilities and shopping available on the strip
Family Friendly Hotels and Apartments
Restaurants and Snack Bars
Kiddies Play Areas
Supermarkets
Banks
Souvenir Shops
Fashion Boutiques
Many families who choose Protaras are so pleased with the standard of the resort they come back again.

Location of Protaras Resort
The resort is located in eastern Cyprus, close to Ayia Napa 5Km, Cape Greko 4Km, Kapparis 5Km, Paralimni 10Km

Best time to visit
The tourist season runs from early May to 31 October, some hotels and restaurants may open in April.
The resort closes down completely between November and March

Nearest Airport
Larnaca Airport is approximately 1 hour away

Transport
National Bus Service, Taxi, Car Hire

What to see and do in Protaras
Magical Dancing Waters is a spectacular show which won 1st prize in the EU Theme Park Innovation Awards.
Watch the water dance to music, combined with a laser show. Shows start at beginning of May and finish at end of September
What to expect at the show
Dancing Waters
3D laser animated show
volcanic eruptions
dancing flames
water whirls which shot 12m into the air
Where is the Show Held?
In the centre of Protaras directly at the back of MacDonalds

Ocean Aquarium
The Aquarium is the largest in Cyprus
Birthday parties are also held at the Aquarium for children of 3 years upwards

Water Sports
water skiing
jet skiing
scuba diving
snorkeling
paragliding
parachuting
boat trips

Diving in Protaras
The resort offers the best diving in eastern Cyprus.
There are around 10 Certified Diving Schools for beginners and experienced divers.
Walk in dives
Scuba Training and group diving tours
Protaras has the most diving sights on the island
boat diving - don't miss the Zenobia - if you have deep diving certificate. - the Zenobia is at a depth of 40m
Disabled divers are taken care of at several of the small sites

Like to hike?
There are 10-12 miles of coastal paths around the resort which stretch from Ayia Napa to Paralimni. You can explore sea caves, ancient roman ruins, churches, beautiful sea views and fresh, clean sea air. So if you like walking, there's plenty of interesting places to explore.

Moonshine Ranch
What is it?
Moonshine Ranch is 150 ft above sea level with panoramic views of Ayia Napa, Cape Greko and Protaras.
A large ranch surrounded by decorative walls, grass lawns and walled gardens There are several horses at the ranch which are available for special occasions including weddings, horse riding and tuition.
A great place for bird watching - the feathered kind! You'll get some fantastic photos from Moonshine Ranch So…
Don't forget your camera
What you will find at the ranch…
Horse riding for experienced riders and instruction for new riders
Horse and carriage rides
Book your wedding at the ranch
Bar area which is shaded
Restaurant which sets 100 or more customers
You can experience the countryside on horseback anytime between 8am and 8pm What a lovely way to travel through the mountains in the area.
There are several tracks and paths for...
hiking and walking
mount biking

Restaurants
From traditional Greek Cypriot tavernas to international cuisine, including popular Chinese, Japanese, Mexican, French and Indian food. You'll be spoilt for choice!.

Protaras Nightlife
Bars
Night Clubs
Nightly hotel entertainment

Weddings in Protaras
Yes.. Protaras is a popular location to have your wedding. No need to worry about the language barrier!
All wedding ceremonies are delivered in English. There are 2 town halls in the area where you can have a civil wedding. And...
The Weather in Cyprus won't spoil your special day
Read what other travellers thought of Protaras and other resorts at

Search for Protaras Holidays here

Top of Protaras Resort

Home Page