Mount Olympus
Troodos Cyprus
Cyprus mount olympus is at the highest point of the island. Know as the troodos mountains.
Breathtaking and peaceful. Hillside alpine like villages, steeped in history and Cyprus culture. Only an hour's drive from Limassol and Nicosia. We love it.
At its peak, Mount Olympus stands at 6400ft of Troodos Mountains in Cyprus.
It spans most of the west of the island, making it the largest mountain range in Cyprus.
There are many famous mountain villages and resorts. Platres, Kakopetria and Imodos are just a few.
The Coolest Place in Cyprus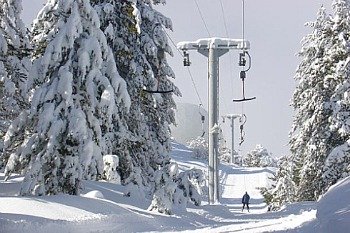 Our Trip to Troodos
I remember so well the first time we took a trip up to Troodos. The contrast to coastal resorts is incredible and the villages along the way are so beautiful. It was such an exciting journey, driving our way up and around the winding roads to reach the top.
You have to witness it yourself to believe it
What has always stuck in my mind is seeing village houses and restaurants partially built on stilts which stretch over the cliff edge. I was shocked, amazed and in awe at the same time.
What a beautiful, natural, peaceful environment to explore. It's a phenomenal place to visit and soak up the atmosphere. It really is an opportunity to revisit the purity of life and nature before all the redevelopment of such places elsewhere. It's a real journey into the Cyprus culture and history.
Our Mount Olympus off road Experience
When we took our first trip up to Troodos, I was so glad we decided to hire a 4 wheel drive. I remember it was a Toyota Landcruiser, very comfortable with great air conditioning.
Don't get me wrong, the main road up to Troodos and Mount Olympus is good. But my husband David, being a 4 wheel drive lover, decided to go off road on the way down. I'm talking, a winding, single dirt track almost all the way down to sea level.
With sheer cliff drops to one side and rocky mountains on the other. An awesome experience but if you're a bit faint hearted it might not be for you.
I spent a lot of the time on our off road experience, looking at the mountains, vineyards and the array of dense flowing bushes. What totally amazed me was to see grapevines growing out of the side of the mountain!! I was so close; I could have rolled my window down and picked a bunch of grapes.
I didn't though!!
My adrenalin was pumping periodically on that journey down, but I must admit it was thrilling at the same time. So…If you're the adventurous type, go for it. But I highly recommend you hire a decent 4x4 vehicle, even if it's just for your trip to Mount Olympus. Check out my Cyprus car rental tips here
Cyprus Ski Resort
How would you like to swim in the Mediterranean in the morning and ski or snowboard in at Mount Olympus in the afternoon? Cool!!
In winter troodos mountains become quite cold and it snows on the mountain peaks transforming it into a popular ski resort.
Many people imagine the weather in Cyprus to be hot across the island. Troodos is cooler and a great alternative Cyprus holiday destination for foreign visitors and Cypriots away from the hot 30c+ summer temperatures.
This snowy aspect of Cyprus never ceases to amaze me. It's the coolest place in more than one way; winter and summer. Many visitors to Cyprus are amazed when they experience the contrast in climate.
Snowboarding and skiing up on Mount Olympus Cyprus is such a great activity to try. The scenery is beautiful and on a clear day you can see Turkey.
Troodos Holiday Villages
If you like to visit churches, you're in for a real treat.
Take a walk around Byzantine monasteries and churches located on the mountains, some nestling in valleys and picturesque villages. It's a real step back in time.

Picture Perfect
Mountain Villages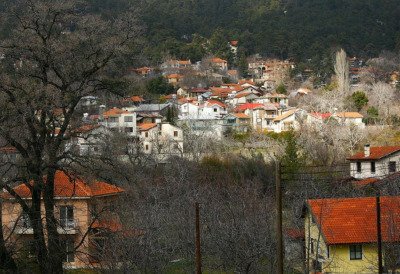 Platres is very popular with both foreign and Cypriot tourist. The village is quite unusual, it has a stream running through it. Dividing the village in two. Kato, meaning lower Platres and Pano upper Platres.
Kato Platres is the quieter side. Upper Platres offers many local tavernas, restaurants and night spots.
The Cyprus Tourist Office in Platres is where you can pick up a tourist map of the area and Information about things to see and do.
Upstream you will find the Kaledonian Falls and theirs a trout farm at the top of the village. You can walk the distance or drive.
There's plenty to do if you feel like it, or just chill out and enjoy the spectacular views.
If you happen to be staying in Limassol or Nicosia, you can take a bus ride to Platres. You can get this information from the local Cyprus Tourist Offices.

Kakopetria Village Troodos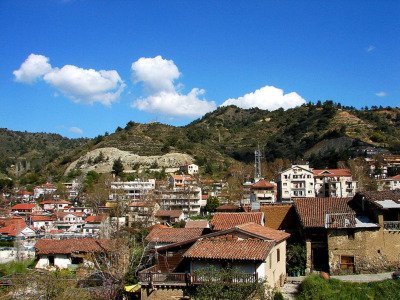 Super Places to Visit at Troodos
Historical Sites, Museums, Cobbled Street Villages, Churches and Monastery

There are nine churches and one monastery in Troodos that are counted among UNESCO's World Heritage Sites and several other monasteries
These are the Kykkos monastery is the richest and most famous. The nine Byzantine churches are:

• Stavros tou Ayiasmati • Panayia tou Araka • Timiou Stavrou at Pelendri • Ayios Nikolaos tis Stegis • Panayia Podithou • Assinou • Ayios loannis Lampadistis • Panayia tou Moutoula • Archangel Michael at Pedhoulas
Things to do on Mount Olympus
Nature Trails ranging from 2–5 miles and at different locations
Hiking. Skiing, Snowboarding in Winter, Cyprus Ski Club and bicycle riding.

Mount Olympus Accommodation
There are several types of accommodation at Troodos; hotels, farmhouses, bed & breakfast, if you wish to have a longer stay.
Platres is a very popular village and a great place for hotels, restaurants and sightseeing.
Search and compare prices for accommodation right here.

I've placed a search box on the right for you.

It will save you lots of time searching the internet.

To get started just add a check-in and check-out date.

Select how many guests then choose the area your interested in by clicking the button beside any City - for example Platres - then click the orange search bottom.







If you want to do a search for a place not listed, Click the radio button next to Another City type the name in the box, click search and that's it... it's a really handy tool!

Or search for the cheapest accommodation in Cyprus below.
Weather up on Troodos Mountains
As a general rule the range of weather on the troodos mountain is approximately 10 degrees below coastal temperatures at any time of year.

| | | |
| --- | --- | --- |
| Month | High | Low |
| | | |
| July | 85 | 72 |
| Aug | 85 | 73 |
| Sept | 82 | 68 |
| Oct | 77 | 62 |
| Nov | 70 | 54 |
| Dec | 63 | 49 |
Rent a car in Cyprus with

Tips about Renting a Car

Top of Mount Olympus Troodos

Go To Cyprus Keys Home Page