Birth of Aphrodite Goddess of Love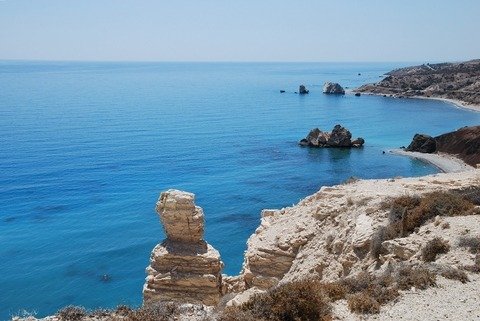 Learn About The Birth of Aphrodite
The birth of aphrodite Greek goddess of love has many versions which are told by various greek mythology storytellers along with stories about her part in major events during the classical era of Greece The Trojan War, etc.
To the founding of a nation that ultimately ruled the world Rome, her influence spans the generations.
Even Paphos, a coastal city in the southwestern part of Cyprus, is, according to Ancient Greek and Roman writers where the birth of Aphrodite took place.
Legend has it that she was a product of Ouranos' seed when Cronus, his son, cut off his genitals and flung them to the sea. Out of the foam (aphros) of the waters, the birth of Aphrodite took place and she was washed ashore carried by a gigantic scallop shell.

The shore where she landed was none other than the ancient town of Paphos. Although there is another version that depicts her as a daughter of Zeus and of Thalassa (a sea goddess), the birth of Aphrodite happened in the same place. Another popular version, which describes her as a daughter of Zeus and Dione, also mentions Cyprus and Paphos as her origin.
Aphrodite's Rock
Greek mythology has a wonderful way of explaining phenomena and even other strange places or objects and turning it into a good story. A good example of this is Aphrodite's rock, which is situated on a pebbled beach near Pissouri at the westernmost end of the District of Paphos.
It's basically a pair of giant rock formations that sits gracefully offshore and has provided many famous poets and artists beautiful inspirations in order to create their piece. One such artwork is The Birth of Venus by Sandro Boticelli.
The Legend of Aphrodite's Rock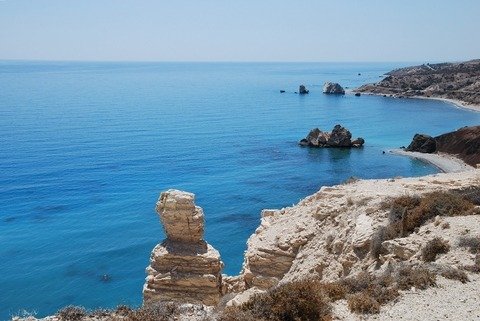 According to legends, the rock itself is said to have been the place wherein the naked form of Aphrodite surfaced from the foams of the sea and was gently carried by the scallop shell to the shore. Technically speaking then, the rock formation is the actual place of the birth of aphrodite.
It's been said that if you swam naked around the rocks (some say you only need to swim round the biggest one) at least three times in the night on a full moon then you'll be gifted with eternal beauty. Other versions of that notion even say that you'll find your true love if you just swim one time around Aphrodite's rock.
Rock of the Greek Warrior Digenes Akritas
Another legend concerning Aphrodite's rock says that it was actually made by a great warrior by the name of Digenes Akritas, a Byzantine (or Roman-Greek) soldier of mixed Syrian blood. Some even say he was a giant of enormous strength.
In this legend, he protected the island of Cyprus by throwing large boulders of rocks at an invading Arab fleet. This is one of the reasons why it's locally named as Petra Tou Romiou (Rock of the Roman); though most people simply call it Rock of the Greek.
As time passed into the modern period, and in order to correlate with its greek mythology origins, it was renamed once again as Aphrodite's Rock.
The Temple of Aphrodite
There were many temples dedicated to Aphrodite during the Classical period of ancient Greece. Even during the waning days after the death of Alexander the Great and up to the time of the Roman Emperor Caracalla, there were still many shrines and temples dedicated to her.
The most famous of these was Aphrodite's Temple in Cyprus. It was a megalithic structure designed to absolutely honor the goddess in the rawest form of celebration that people can only imagine.
Also called as the Paphian Temple of Aphrodite, or Aphrodite of Paphos, Temple Sanctuary. It was a pilgrimage site for devoted followers who practiced the sacred sexual rituals of the Goddess of Love and Fertility.
These days, the temple is in ruins and it provides for archaeologists and tourists an interesting place; to visit. It's located in Kouklia Village, a few miles east of Paphos.
The Baths of Aphrodite
Paphos is known for its extensive collections of inscriptions and mosaics depicting many legends such as the birth of aphrodite and other Greek mythological events during that era.
Apart from that, there are also amazing structures and historical sites (and even mythological settings) that adorn its surroundings.
However, in the northwestern regions of Cyprus, the town of Polis garners its own following of tourists. The Baths of Aphrodite, which is located 48 km north of Paphos, is one of the main attractions of the small town of Polis.
Another one of the Aphoridite Myths is that she used to take a bath in this pond and that it was where the youthful Adonis and the lovely goddess fell in love with each other.
He happened to chance upon her during her regular bathing hours and was immediately transfixed at her beauty.
Aphrodite herself fell in love as she spotted his handsome gaze peering into her own eyes; thus started one of the most enduring myths that live on in people's minds up to this day.
Tombs of the Kings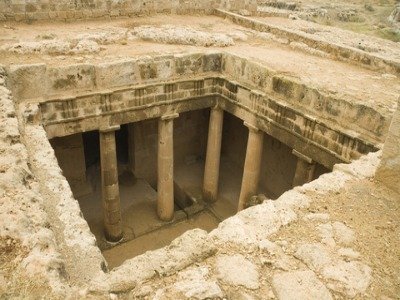 Greek mythology is certainly the main theme of most of Cyprus' tourist attractions. However, it's not necessarily focused on that. There are also other places worthy of a visit.
Due to its popularity as the birthplace of Aphrodite, ancient aristocrats and other conquerors alike have sought to experience and even take a piece of Paphos for themselves.
One such site is the magnificent Tombs of the Kings. Though there's no evidence that any such royalty was buried in this site
It still offers a wonderful attraction for both greek archaeology and tourists alike. The name stuck because early antiquarians dubbed it so and that's why it's been called that name ever since.
The birth of aphrodite and the location is definitely filled with many wonderful myths and legends.
A vacation to Paphos can give you a sense of the importance of both mythology and history. It's no wonder then that Cyprus has so many tourists every year.

Other visitors liked these pages...

The Amazing History of Cyprus

Archaelogical Site in Cyprus

Top of Birth of Aphrodite

Find Cheap Holidays to Cyprus

---
Custom Search
---