Aphrodite hills hotel Cyprus
Amazing Aphrodite Hills Hotel Cyprus is more than just a hotel. It is just part of an absolutely fabulous resort with a championship golf course with clubhouse and golf training, 9 tennis courts, luxurious health spa and 14 eating places.
There is also a central village square on the resort. Several places within the resort specifically for wedding venues and a pretty Cypriot church the wedding ceremony.
You need to see it in the flesh to believe it!

Aphrodite Hills Hotel Resort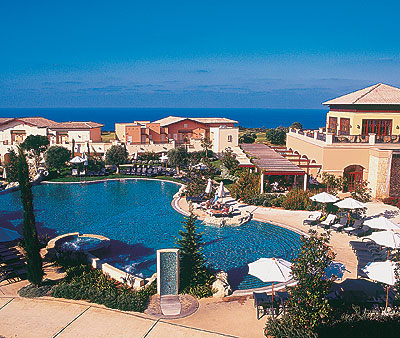 Thomson Holidays Picture
Aphrodite hills resort has so much packed in to it you never get bored. A really great place for families, couples, and golfers
Where is Aphrodite Hills?
Aphrodite hills hotel Cyprus is in the town of Koulia, just 20 minutes away from Paphos.
Its an Intercontinental Hotel, so everything about it is luxurious, with all the facilities you could every wish for.
It won an award for best European Resort.
As a wedding venue in Cyprus, Aphrodite hills hotel is a top favourite for a perfect wedding day and honeymoon destination.
If you like to explore, historical places Aphrodite's temple, baths are close by. And the mythical birth place of Aphrodite's Rock is breathtaking site with a pebble beach only 1 Km from Aphrodite hills resort hotel.
Aprodite's Rock Paphos

Here are just some of the many facilities...
If you are looking for relaxation and a bit of pampering, Aphrodite hills health Spa is the ideal place. It offers every type of treatment and relaxing massages you can think of.
If you like to be active while on holiday Aphrodite Hills has an astonishing 9 tennis courts and a professional 18 hole golf course with its own clubhouse.
Community Village Centre
I love the idea of there being a community village square in the resort, with its own shops, pizza and posh dining at the restaurants, coffee shop, travel agents and car hire services.What a great place to chill out and meet new people.

The hotel offers discount vouchers, if you choose to eat out in the village sqaure!
There is also cheap local bus service to take you into Paphos for a few euros.
Children's Facilities and Activities
There is an excellent kiddies club, which is one of the best in Cyprus. Suitable for young children under 10.
The kids can splash and play in their own large swimming pool, go horse riding, play tennis and have lessons, have fun playing mini golf or go climbing, swinging and make new friends in the playground.

Note: If you rental a holiday villa there is a 2 Euro charge for the kiddies club.
What are the Rooms Like?
There are several different types of rooms and suites at Aphrodite Hills Hotel Cyrpus. All very plush and spacious with every facilities you could wish for.
Rooms you can choose from...
Family connecting rooms
Deluxe rooms
Junior suite with extra seating area
Club Suite with your own living room, private pool or jacuzzi
Club rooms with sea or golf course views
Presidential Suite, very luxurious indeed, if you want to really splash out. Have a garden and pool with too many luxuries to include here
Eating at the Aphroite Hills hotel
There are more than enough eateries around the hotel and resort,14 to be exact. That's more than enough to keep your tastebuds busy for a whole fortnight!
You can choose to have full a la carte, try some traditional Cypriot dishes at the taverna. Other places to choose from are french, italian, Chinese and other Asian style food or just have a simple bar snack.
Learn about Holiday Rentals at Aphrodite Hills Golf & Spa Resort
Read more and get prices for Aphrodite Hills Hotel
Weddings at Aphrodite hills Hotel Cyprus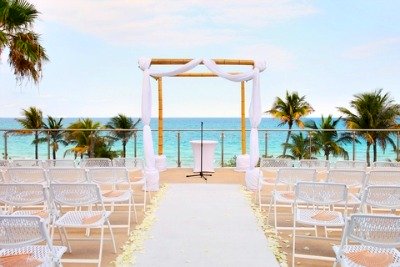 The hotel offers an impeccable wedding service. With a dedicated team of professionals who work closely with you to make sure every aspect of you wedding is covered and arranged to perfection to create your dream day.
From planning, organizing, catering, down to creating your wedding cake, prepared by the hotel's professional chefs.
May and September are the busiest for weddings in Cyprus. July and August are very just too hot and the price of flights to Cyprus are very expensive during the peak summer season.
Aphrodite holiday villa rentals
Photo from James Villas
If you prefer your own space and privacy, the Aphrodite Hills Golf & Spa resort have stunning villas with private pools and apartments built on the edge of the golf course. All available for you to rent for the duration of your holiday.
Learn about Holiday Rentals at Aphrodite Hills Golf & Spa Resort
Read more and get prices for Aphrodite Hills Hotel
If Aphrodite Hills Hotel Cyprus is not to your liking you can view
more Paphos hotels here
Planning your Wedding in Cyprus
Top of Aphrodite Hills Hotel Cyprus