Pictures of Paphos
Pretty Paphos Photos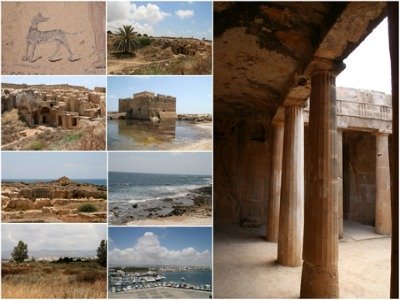 Some pictures of Paphos and other interesting places to visit in Cyprus are to small to really get a good look and feel for the town, resort or attraction.
So I figured, why not show you the Bigger Pictures of Paphos so you can really get a great view.
As we have travelled the island over many years we have taken humdreds of snaps. Unfortunately some where taken before digital cameras arrived on the seen.
So a few of these picutres of Paphos have come from other sources, until we can pop down to Paphos againto snap with our digital camera. We live on the south east of Cyprus, Paphos is on the west coast.
The attractions of Paphos are mainly historical artifacts and archaeological sites. So if you want to explore the history of Cyprus, Paphos is the place to visit. Most of these pictures of Paphos are ancient historical sites.
So here goes!

Beautiful Coral Bay Beach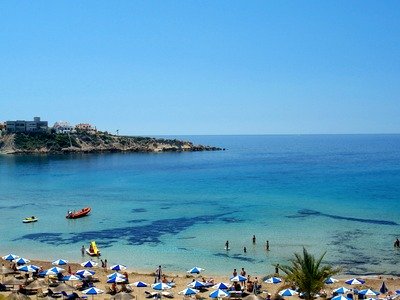 Coral Beach is the most beautiful beach located in the Peyia area of Paphos
Set in a bay, it has lovely creamy soft sand. A great beach for kids to play safetly and paddle in shallow torquiose water.
There is a lovely hotel situated right on Coral bay called the Coral Beach Hotel. We stayed there many times in the past, it has a lovely relaxing atmosphere, great for chilling out.
The best part, the beach is a few minutes walk away.

Paphos Historical and Archaeological Sites

---

Paphos Castle

Paphos Castle,...
Michael Short
Supplied by Allposters.com

It is said, if you visit Paphos you will never be more than ten minutes from an ancient monument or archaeological site.
We agree!!
Paphos or Pafos Castle, originally called a fort when first built in the 1200s. You can find it right on the harbour, in front of the promenade with many tavernas, snack bars and shops.
Believe it or not the Castle was built at the edge of the harbour for protection.
It has been used as a prison, the british stored salt in it. Now the Paphos festival is held outside the castle in September.
The castle is open all year round for visitors.
You can take a dander round then stop off at one of the tavernas for a bite to eat.
I'm sure Paphos Castle is one of the most photographed ancient monuments along with Aphrodites Rock.

Aphrodites Rock
Petra tou Romiou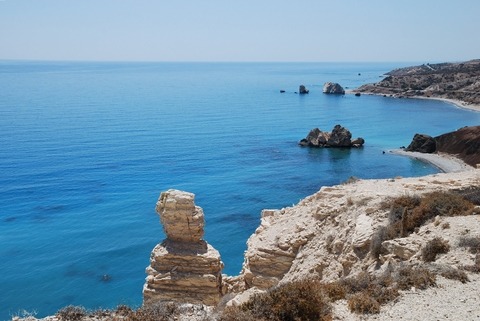 Aphrodites Rock also called Petra tou Romiou or the rock of the greek, is where mythology tells us that Aphrodite was born.
People flock to this beautiful part of the coast to see that very special rock.
I remember, many years ago, standing at the top of the cliffs looking down at Aphrodites rock and being awe struck by the beautiful deep blue sea, the rugid coast line and seeing the famous rock.
You can find Aphrodites rock on the old Pafos to Limassol road - the B6. It's actually 25kms from Paphos but its a lovely coastal drive. You will also find the Santuary of Aphrodie 15 minutes away from the rock on the same road.

Saint Pauls Pillars and Church

St. Paul's...
John Miller
Supplied by Allposters.com


Tombs of the Kings in Paphos
More pictures of Paphos...
The tombs of the kings were built between 3rd century bc and 3rd century ad.
Only the upperclass nobles and their families were buried here.
No common folk allowed!!
The tombs where carved into the rocks - that must have been hard work.
There are about 100 tombs which have been uncovered for you and me to see.
The best ones to see are in the atrium area which has huge columns, here's a picture of the atrium.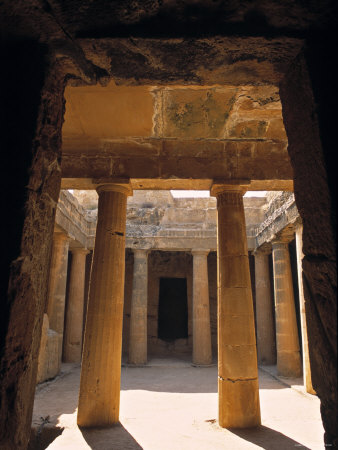 Tombs of the Kings, Pafos...
Doug Pearson

Pictures of Paphos Mosaics

Fantastic Ancient Mosaics

---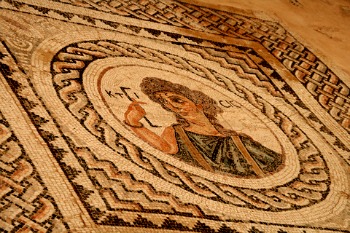 In 1962 a farmer was ploughing his field. Just minding his own business, when he came across these floor mosaics. It turns out that the ruins had been around since the third to fifth century AD!
And... to date, are some of the best Roman floor mosaics ever found. They are fantastic to see, it's incredible how long these mosaics have lasted.
More often than not, many historical artifacts and sites in Cyprus are found by accident.
In fact, about 2 years ago, construction workers were digging away on a building site in a little village called Ormideia, which is 10 minutes from where we live. They stumbled upon undisturbed tombs dating back centuries ago.
The construction workers were happy to stop working, and the site was immediately closed off until the archaeology team arrived.

Mosaic at the House of Dionysos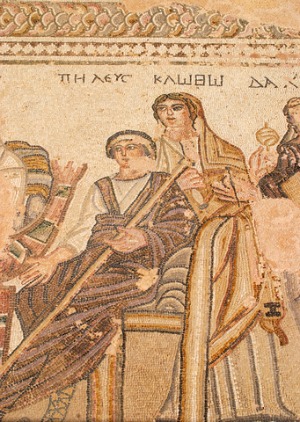 The floor mosaics can be seen in the 5 different houses which were all part of a Rome Villa.
All the mosaics are named after the scene they show.
The House of Dionysos above focuses on the god of wine.
We found the mosaics fascinating.
It is so amazing how you can still clearly see the images depicted on the mosaics to this day.

Aphrodite Statues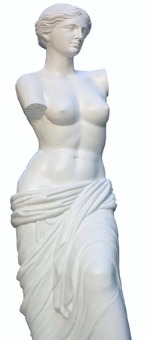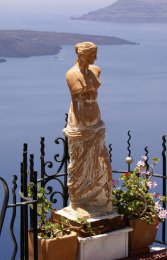 I hope you enjoyed these pictures of Paphos. As I take new snaps of Cyprus I will add them to the collection for you.
If you have a special photo and the story behind it, please share it with us and other visitors.
Have A Great Story About a Special Trip?
Do you have a great story about a Special Trip or Cruise experience during your Cyprus Holiday? Share it right here!

Learn more about the History of Cyprus

Read about Cyprus Archaeological Sites

Top of Pictures of Paphos

Visit Cyprus Keys Home Page