New Pictures of Larnaca
Experience Larnaca through Our Photos

Our Pictures of Larnaca, personal snaps of old and new Larnaca town, resort and historical sites. Our family's journey has taken us all over the island... 25 years of holidays to Cyprus and now we live here.
Explore Larnaca with photos to see what its really like. View some of the best places we visited. See the beautiful clean Larnaca beaches and our favourite holiday attractions.
We wish to share our Cyprus pictures with you.
If you have special moments of a favourite place in Cyprus I would love to see them, and hear your happy memories

Pictures of Larnaca Seafront Promenade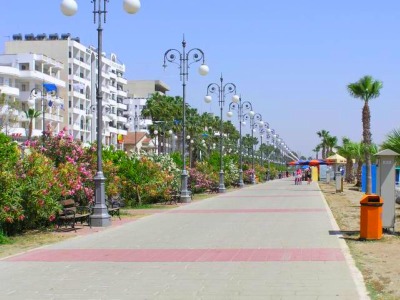 Larnaca seafront promenade is pretty unique. The long stretch of sandy beach is on the left side with a wide paved walking area which we love to stroll along.
On the other side of the paved area are dozens of modern cafes, restaurants and snack bars. When it's time for a cappucino or a snack, we are spoilt for choice of venue with a few steps of the seafront.

Picture of Larnaca Marina on the Seafront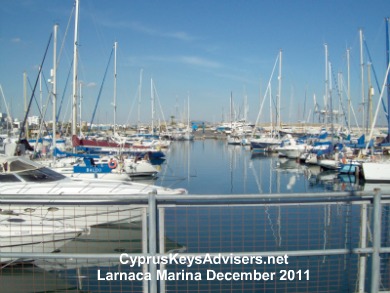 The marina in Larnaca is right next door to the beach and tree lined promenade. Very handy!! Sadly, unless you own a posh yacht or boat you can't dander round to see some of the magnificent, expensive sea crafts. It's a shame we can't at least gloat!!
The good news, hopefully, is there are plans to extend the marina for cruiseships to dock. Meaning, that it should be possible in the future to take a cruise from Larnaca. At the moment, Limassol is the only port that you can cruise from.
We took a 3 day cruise to Egypt some years ago from Limassol. It was very enjoyable.
Hopefully, we will be able to cruise from Larnaca which is closer to where we live. I can't wait!! Who knows... we might be climbing aboard a boat like this...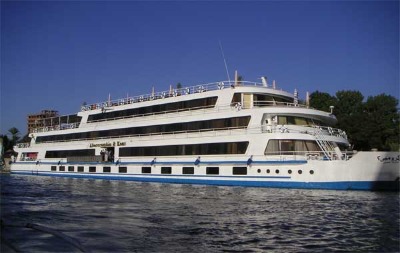 When it happens, I'll post about it here along with some new pictures of Larnaca Marina.

Larnaca Beach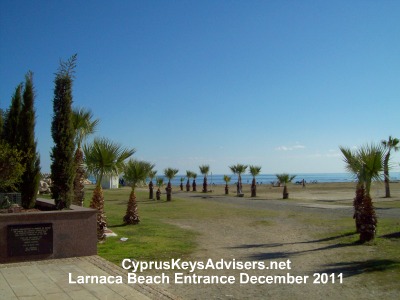 The beach in Larnaca is right next to the marina. It is a huge stretch of sandy beach with palm trees. I took this picture of Larnaca beach on the 11th December 2011. The temperature was 18c.
The promenade, marina, and cafes where full of people enjoying the clear blue sky and warm weather. Its a lovely place to spend some time admiring the boats in the marina and taking a walk along the seafront promenade.

Christmas Tree in Larnaca Sqaure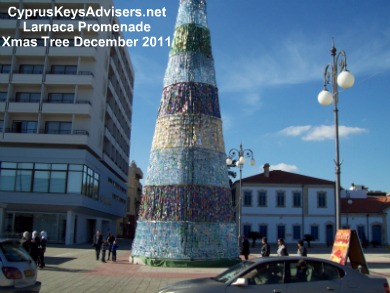 The christmas tree in Larnaca square next to the cafes and just across from the beach.
When we first looked at the tree, it just looked like a modern shape and theme.
Then we looked a little closer at it.
To our astonishment the xmas tree was made entirely of recylced water bottles and cans!!
Pretty neat, don't you think?
Sorry I could not get the whole tree in the photo, it was just to tall.

Pictures of Larnaca Historical Sites

9th Centruy Saint Lazarus Church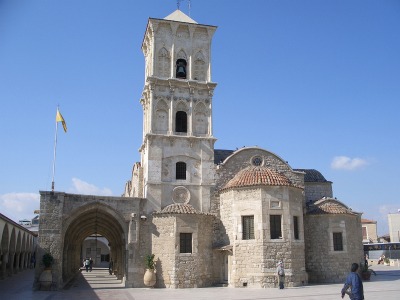 Saint Lazarus Church in Larnaca town is been around since the 9th century. It was named after Saint Lazarus of Bethany who fleed to Cyprus because of death threats.
Apparently when he died he was buried in a tomb in the area before the church was built. Legend says his tomb is under Lazarus church.

Hala Sultan Tekke Larnaca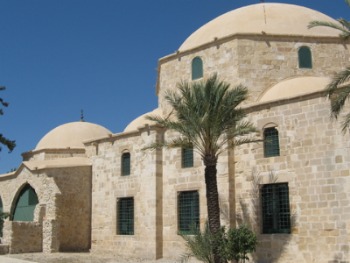 Hala Sultan Tekke – is a mosque which was built in 1760 next to the famous Larnaca salt lakes. It's a beautiful building that is very close to Larnaca International Airport.
Twice a year, thousands of flamingos on their way to Africa, take a break at the salt lakes to snack on the algae during spring and autumn. It was an incredible experience for us to watch these beautiful birds

Flamingos at the Salt Lakes
near Larnaka Airport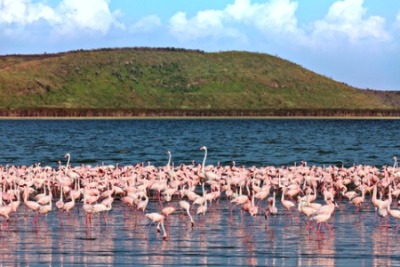 Pictures of Larnaca Aquaduct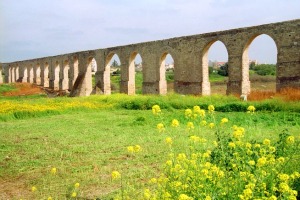 The 75 arched aquaduct in Larnaca is a very impressive site.
You wouldn't expect to see it in a busy built up part of Larnaca.
The first time we came across it, we where out shopping. Suddenly there it was. The aquaduct looked like something from a film set.
When we read about it, we found out that it was the biggest water supplier in Cyprus until 1939. Maybe the reason Cyprus is always short of water is due to the aquaduct being closed.
It was name the Bekir Pasha aquaduct after the person who planned and paid to build it in 1750!! If you vist Cyprus, take a look for yourself, it really doesn't look 260 years old!!

Pictures of Larnaca - Makenzie Area

Mackenzie Marina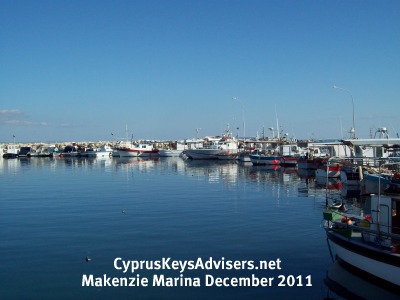 When we first starting visiting Cyprus, the Mackenzie area of Larnaca was a pretty sad looking, lower end of Larnaca.
Mind you, the old Cyprus tavernas served up fantastic food. We had many a Cypriot meze in many of the Makenzie Tavernas. They would serve up so many dishes, we would have to tell them to stop bringing more. The food was fantastic and really cheap too.
A typical Cyprus Taverna looks like this...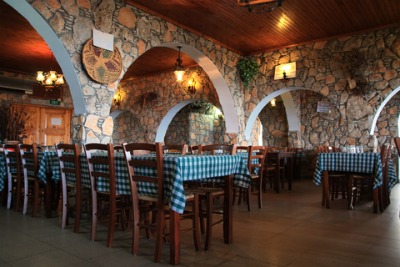 Over the years, Mackenzie has been given a major facelift. There are lovely modern cafes and classy restaurants. Some of the old tavernas are still there.

Blue Flag Makenzie Beach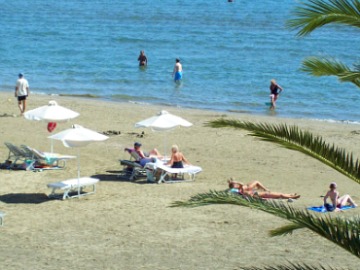 Makenzie beach is long and sandy with loads of room to sunbath. The sea is very shallow, you can walk out 50 metres and water will only be waist high, so its safe for children to play in.
There are many hotels behind the beach area with paths that lead down to the beach. Its a lovely place to complete chill out.
I hope you enjoyed looking at these pictures of Larnaca, I will be adding more for your enjoyment.
Remember, if you have any special photos of Laraca, you can share them here along with your memories. It could be turned into a new page on this site. Don't be shy... we would love to here from you. In the meantime...
you may like to view a few more interesting pages...

Find out more about Larnaca Town and Resort

Latest deals on Flights to Larnaca

Special deals on Cheap holidays in Cyprus

Top of Pictures of Larnaca

Return to Cyprus Keys Home Page

---
Custom Search
---