Learn About
Cyprus TV and Satelite Choices
Your Guide to Cyprus TV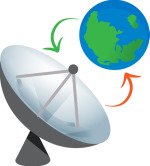 All you need to know about TV in Cyprus from our family's experience.
Terrestrial tv in Cyprus is predominately in Greek.
There are english language films, cartoons and certain soap serials shown someties but these are minimal.
Sorry to say there are no english language soap series which you may wish to view. To get english soap series you need a 4m satelite dish.
There are some american drama series such as Greys Anatomy, House, The Good Wife etc.
Television guides are available free with weekly newspapers such as the Cyprus Weekly which lists the Cyprus TV channels for the week. You will need a normal terrestrial antenna to view these channels and in some areas an antenna booster unit to compensate for a weak signal.
Satellite TV in Cyprus
For most, including us, Cyprus tv is fairly restrictive entertainment. Satellite dishes are widely used by foreigners and Cypriots who like to watch their football and other sports events.
Satellite Television is available in a large range of packages. But depends on the size of dish you are will to pay and what you want to view. The cost of these dishes do vary considerably, from a few hundred Euros to thousands.
Satellite TV Packages in Cyprus
Packages range from a one off payment, which we chose, to subscription packages just like Sky in the UK for instance. The one off payment for dish and decoder normally offer free to view channels and are split into two packages.

Fixed Dish and Motorized Dish
A fixed dish will normally pick up only one satellite whilst the motorized dish as we have can pick up seven satellites so there are hundreds more channels to choose from, but do not offer any UK channels anymore.
Many of the channels our 1.5m motorized satellite dish pick up are foreign language. So you are still a bit restricted to what you can view.
The best channels we have are;
MBC 2, which shows movies all day
MBC3 is a children's channel, some programs are in English.
MBC 4 is mostly American serials, Oprah, Dr Phil etc and
MBC MAX is another movie channel,
Dubai One is an english language channel which offers a mixture of programs.

Sadly, many movie channels repeat films over and over on the same channel and on other channels as well. We've noticed lately that programs are being repeated more often and tend to make the rounds of the best channels we can pick up.
Mind you, it was just the same in the UK The only difference in Cyprus is there is no license fee. Hooray!! I'm sure that won't last for ever!
We use to have access to BBC Prime as a free to view channel, but it has now been made a subscription channel. This is happening more and more now with other channels. I think eventually there will not be any free to view channels anywhere in the world.
The satellite companies are able to tell to some extent when a channel is being shifted to a different frequency. Like BBC Prime, our satelite man told us that it has been shifted to a different satelite altogether. So no more BBC Prime for us.


Satellite Dishes
Main dish sizes are 1.5m dish, which we have. A 2.5m will receive more channels, it just isn't possible to tell you which channels you can receive because these change over time.
To receive many more channels, including many favourites a 4.2 m is required. I've seen 4.2m dishes in place, they are HUGE monsters! Very expensive too.
It must take a crane to get one of these up on a roof. Some people have them installed at ground level.
We decided when we moved to Cyprus not to have a subscription package, we'd had enough of that in the UK and the programs on offer were more multiple repeats and very few new programs.
If you decide to chose a subscription package, there are several to choose from. The more expensive package are for receiving UK TV channels, I would suggest that you sit down and think about what programmes you really want like to view, i.e. one partner likes football, the other likes UK soaps.
Speak to a satellite supplier and installer, there are many here in Cyprus. They will give you details, about what packages are suitable and most importantly the costs. Do not just go to one supplier, like anywhere else prices do vary for the dish and package.
In my humble opinion, think quality, not quantity when it comes to channels. Who wants to be scrolling through 100s of tv channels to find one you like. Life's too short!!


Example of Most Popular Satelite Packages...
Free to air Packages
Nilesat

Motorised Dish
Showtime
Package price includes;
receiver, dish,
installation costs.
Mixture of Channels
15 English language Channels
7 satellites,
Over 100 channels
Similar to Sky
but using 1m dish
Approx Package
Price in Euros
240
450
870


Cyprus TV and Digital technology, also know as Cable TV
Cyprus tv will soon be available Digitally through the telephone... Yippee!!
Gradually the cables are being installed across Cyprus. When I have any updates for you I will post them here...
Watch this internet space for more information about Cyprus tv, Satellite and Digital packages.
I hope you will visit the site regularly for updates...


Learn about getting connected to the internet

Top of Cyprus TV

Find Property in Cyprus

Go to Home Page