Cyprus Online
Getting Connected to the Internet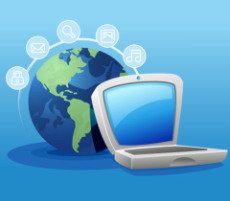 Cyprus Online
Need to know how to get connected to the internet in Cyprus?
Let me tell you...
Our family's experience of getting connected to a Cyprus landline and the web.
Gradually, cheaper online package deals are being offered and new internet providers are popping up. And...
The new fibre optic cable system is being installed across the island. This will alos offer more options. Such as, television, and internet services through your landline.
Watch this space for updates!
Getting a Landline Telephone Connected
In order to get a landline telephone connection in Cyprus you need to register with Cyta. They are the main telecommunication service for Cyprus, similar to BT in the UK only Cyta is government owned.
It's best to go directly to one of their CytaShops to register and request a landline telephone connection.
Cyta offer an online registration but if you're new to Cyprus I recommend a visit to one of their shops
When we signed up for a landline connection we went to the Cytashop in Paralimni. Because we had a new house, we needed to take our passports and a copy of the house contact.
Getting Online in Cyprus
Speak to Cyta about getting connected to the internet. Check the packages on offer and which would suit you.
Dialup is still cheaper than broadband, still slower though.
I must say, Cyta are frequently updating the connection services, new technology and offering better deals. These weren't available when we signed up, unfortunately.
Interestingly, Cytanet has recently announced cheaper broadband services with faster speeds.
I wonder if this has anything to do with the new competition!
Competition for Cyta
Recently, a new telecommunication company offering internet connections and Cyprus online services has entered the Cyprus market, which is very good news for us.
Recently, they have been announcing new tv, phone and internet packages. Prices starting from 49 euros (monthly) You will need check with them that the new optic fibre cable system has been installed in your area. We don't have it yet in Xylofagou.
I am waiting for more info on this new company. When I have more, I'll post it here…

Example Cyprus Internet Package Deal
Telephone + Internet + Television Price
Monthly Cost €49.00
Installation (normal price €78,59) Free
Telephony Between Subscribers Free
Second Telephone Line (included) Free
WiFi (included)
Our Phone and Cyprus Online Bill
For Cyprus telephone and broadband connections is;
Cytanet Home Services (including VAT)
Monthly subscription 13.23
Telephone monthly charge 21.17 –
(includes international and mobile calls
Broadband Services 20.13

Total 54.53


Note: The telephone monthly charge includes a few international calls and mobile phone calls.
I highly recommend when you visit Cyprus, either buy a cheap mobile phone here and a Cyprus sim card or have your own mobile umlocked so you can use a Cypriot sim card.
Why?
It is so much cheaper to phone locally in Cyprus and internationally.
I once spent at least 45mins on my mobile phone to a friend in Ireland and it cost me 4 euros. Calls inside Cyprus are a few euro cents a minute.
It's another advantage of living in Cyprus and another money saving tip to share with you.

Top of Cyprus Online

Learn About Cyprus TV and Satelite

Home Page