cheapest accommodation in cyprus
---
The Cheapest Accommodation in Cyprus. Cyprus resort hotels can be pricey. You need to know how to find it.
If you're on a small budget, you won't want to spend a lot on accommodation. After all, you just need somewhere to sleep.
The good news is… Cyprus does have some really nice and ,clean and cheap holiday accommodation.
During our travelling around Cyprus island, we have come across some good quality cheap accommodation.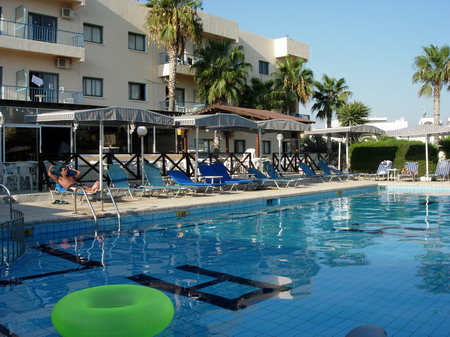 You can find budget hostels, hotels, apartments, self catering accommodation and other low cost sleeps in all resorts and off the beaten track. Finding them can be a problem.
Don't fear, Kate is here, with my personal favourites.
So, without further ado... here are some of the cheapest places to stay that we have found.
cheap paphos accommodation
from 13 euros per night
---
Mariela Hostel, is more like a hotel than what you may imagine a hostel would be.

Run by a lovely family, the Mariela has a really friendly atmosphere.
Very neat and tidy 1 bedroom and studio apartments. Has just been expanded and renovated because of its popularity.

Located in Polis, with its own pool, walking distrance to the beach and a short walk will take you into the centre of Polis and Latchi harbour.
The ancient Aphrodite Baths is only a short distance from Larchi harbour. Read reviews, get more details and availablity for the Mariela Hostel
More Hotels in Paphos Cyprus

Cheap larnaca sleeps
from 12.75 euros per night
---
Lucky Hotel Apartments is low cost self catering accommodation located off the Dhekelia Road around the Voroklini area and a car drive away from the centre of Larnaca town. The hotel has just been updated this year.

The beach is only a short walk way.
The facilities include a really good sized swimming pool, kiddies padlling pool, sauna and if you like to burn a few calories while on holiday, there is also a fitness centre too.
All the apartments which are larger than the average, have a kitchen and dining area, if you wish to cook some of your own meals.
The staff are very friendly and will help in any way to make your holiday a happy one.
Its excellent value for money. See more details and availability for the Lucky Hotel Apartments
More Hotels in Larnaca Cyprus

low cost hotels in ayia napa
from 17 euros per night
---
Napa Prince hotel apartments, is another comfortable family run apartment complex with very good facilities and excellent food.

Situated far enough away from the busy Ayia Napa, yet only 5 minutes walk in and out of the centre.

The apartments are larger than average with a kitchen if you want to cook some meals.
You will certainly receive an friendly welcome and service at this low budget accomodation Ayia Napa Cyprus. Get more details and availability for the Napa Prince Hotel Apartments
More Hotels in Ayia Napa Cyprus

cheap limassol accommodation
from 14 euros per night
---
Estella Hotel and apartments is just a short dander from Limassol tourist area and the beach.

The studio apartments are smart and regularly cleaned every day.



Not all studios have cooking facilities, so you need to request one when booking.
There's a lovely large swimming pool and a separate childrens pool too.
Great value for your money. See details and availability for Estella Hotel Apartments
Hotels in Limassol, Cyprus
Find more of the cheapest accommodation in Cyprus using the quick search box below...
---
I really hope that you have found my list of the cheapest accommodation in Cyprus helpful. If you still can't find what your looking for I do recommend hotelscombined they have 100s of accommodations on their books. Here's the link for you...
Hotelscombined Home page
Top of Cheapest Accommodation in Cyprus