Discover Archaeological
Sites in Cyprus

Our Family's Archaeological sites in Cyprus exploration.
From 1984, we have travelled around this island and believe me, we have seen almost evey part of Aphrodite's island.
Over time, visiting and exploring old and new archaeologignt of al sites in Cyprus made us realise the extent of the islands' history.
To this day, ancient civilisations and artifacts are being discovered on a regular basis.
We had no idea how  many colourful historical characters, empirers, queens and ancient artifacts from the past, dating back many centuries, have been and are still being discovered ti this day. Archaeological sites in Cyprus are a must see. 
Over the years we have visited Cyprus, we became pretty addicted to visiting archaeological sites in Cyprus.
We soaked up many of the historical discoveries on our travels around these fascinating sites.
The Amazing Facts and Artifacts - History and Mystery, you have to see it for yourself. Don't miss out.
Many amazing and significant artifacts have been discovered at these archaeological sites in Cyprus.

They tell us many things about the way ancient people lived and how these artifacts helped development of civilization on Cyprus.







The museums which preserve and display all these important finds help Cypriots learn fascinating facts about their ancestors and how these facts influence who they are today. Archaeological sites in Cyprus mean so much to cypriots and the rest of the world for that matter.

Mosaic Floors Paphos Historical Site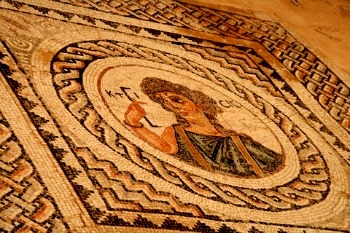 There are eleven major archeologial sites in Cyprus overall. Saying that, periodically more sites are being found. 
Discoveries of important artifacts, icons, dated documents, roads, amphitheatres, and other significant archaeological findings have been excavated.
You can find the main 11 of these archaeological sites in Cyprus at,,,
Nicosia
Salamis
Kition - Larnaca
Hala Sultan Tekke
Chirokitia
Kalavasos
Amathus
Kourion
Palaepaphos
Paphos
Lemba

All the sites are open to the public and offer important glimpses about how the discoveries were made.

Nicosia, Lefkosia in Greek
Panoramic View of Nicosia

Nicosia is a fine example of archaeological sites in Cyprus where great discoveries have been made. Urban Ottoman architecture has been discovered in the great House of the Dragoman located in Patriarch Gregorios Street.

Another is the Archbishop's Palace that is finely showing the large statue of Archbishop Makarios outside the ancient structure. In this walled city is where the Byzantine and Folk Art Museums can also be found.

The Cyprus Museum, which houses a vast collection of Cypriot antiquities, can be found near the Paphos Gate, Nicosia, just outside the walls.

| | | |
| --- | --- | --- |
| Ancient Greek Vase | Chatsworth Bronze Head | Historical Green Vase |
Salamis Northern Cyprus
Salamis – Northern Cyprus  occupied by the Turkish since 1976
The ancient city of Salamis, Famagusta in North Cyprus is one outstanding archaeological sites in Cyprus that supports Cyprus archaeology with its most significant discoveries.
Salamis was once a small farming community that was later developed as a trading center around 1500 BC.
By 8th century BC, Salamis became a Royal city and trading was at its peak. Coins dating as far back as 6th century BC have been found.
Other discoveries made at the archaeological site in Salamis city are the famous...

Pillared Road,

The Roman City,

Roman Road,

Ancient Roman baths,

Temple of Zeus Salaminos,

The Gymnasium Stoa and

the Gymnasium Courtyard.
 








Kition
Another one of the interesting archaeological sites in Cyprus is the ancient city of Kition was a part of the city of Larnaca.

It was in this city where important artifacts dating as far back as the Bronze Age were discovered.

An example is the restored Bronze Age giant Pithoi.
Other significant artifacts that were discovered during excavations of this archaeological site in Cyprus are alabaster vases, coins, tools, lamps, faience scarabs, limestone seals and engraved stone blocks.
Hala Sultan Tekke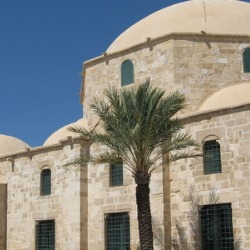 Hala Sultan Tekke, also know as the Mosque of Umm Haram, is another amazing site which is close to Larnaca airport and the huge salt lakes.

An archeological excavation made by the New Swedish Cyprus Expedition during the spring of 2010 led to the discovery of a Late Cypriot Complex.
This large structure exposed nine rooms and more studies revealed of a working, storage, living, and administration spaces as parts of the complex.
Other discoveries included metal objects, textiles and local pottery made of high quality materials. These artifacts dated back to the Mycenaean period.
The Department of Antiquities also revealed remains of buildings dating back to the late 6th and 1st century BC.
The Hala Sultan muslim shrine is open for everyone to see.


Chirokitia
Chirokitia became a significant part of the archaeological sites in Cyprus. Four stone round houses dating back to 7,000 BC were discovered. The early settlers were farmers.
The settlement has defensive walls as well as ancient tombs. This important discovery led to the reconstruction of the said remains which was later declared a World Heritage Site by UNESCO.
Other sites of significance are the medieval museum and the Church of Ayios Lazaros.

Kalavasos
Kalavasos is a great archeological excavation site that showed the existence of the Neolithic settlement from 7000 to 6000 BC, which is also known as the Tenta settlement.
The second Ceramic Neolithic period covering the dates 45000 to 3800 BC was also discovered here as well as the Chalcolithic settlements in Agioi and Pamboules from 3500 to 2500 BC being cemetery sites during the Early and the Middle Bronze Age.
Tenta is believed to be one of the most important settlement discoveries in Cyprus and was possibly first settled in during the Early Aceramic Neolithic period, around 7500 to 7000 BC.

Ancient Amathus in Limassol
Early archaeological site discoveries revealed 11th century BC settlement as supported by historical facts indicating the refuge taken by natives in this part of Cyprus during the Greek civilization conversion around 12th century BC.
The Iron Age also saw the possible trade or stop post that was made in this ancient city with Egypt, Palestine, and Syria. The Arabian raids in 7th AC led to its destruction and complete abandonment.
The remains of the Amathus ancient port can be seen underwater.
Kourion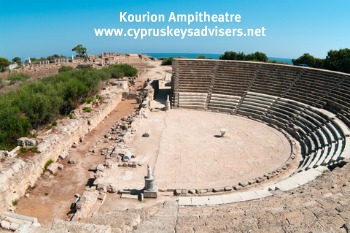 Kourion also made a lot of contributions to archaeological sites in Cyprus.
This was the discovery site of a number of important monasteries and churches that have already been declared by UNESCO as World Heritage Sites.

The Byzantine monument of Our Lady of Asinou, also known as Panaghia of Asinou or Church of Our Lady of Phorviotissa, is one significant finding from this ancient city.
Images of St. Constantine, St. John Chrysostomo, St. Helen and St. George were found in the walls of the said church.
Kourion is considered one of the best showcases of Cyprus archaeology because of its beautiful mosaics and an amphitheatre that is situated in a hill.
You can find Kourion Ampitheatre close to Episkopi Limassol area which is closest to Paphos.

Paphos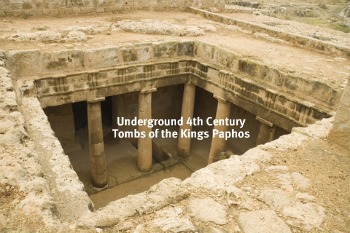 The 13th century castle of Paphos played a significant role during the ancient times when the Ottomans utilized it as a dungeon and the British for their salt storage.
The tombs of the Kings in Paphos was also a very significan find and a must see.
Also, the site brought numerous artifacts and other significant items that can be traced back to the Neolithic Age.

Palaepaphos
Palaepaphos is another of the popular archaeological site in Cyprus that yielded numerous important discoveries from 12th century BC.
It is known as a place of pilgrimage of many religious people of ancient Greek blood.
Once a grand city of the island, this is where the original Sanctuary of Aphrodite was first located, but only lasted from the 3rd to 4th century.
Artifacts that were discovered in this city and in the surrounding areas in the island are housed in the Palai Paphos Museum.
Lemba
Lemba Cyprus archaeological sites
Lemba, also known as Lempa site, that showed important evidence of original settlement during the Chalcolithic Period or 3800 to 2500 BC.
More interestingly is the discovery of stone-carved cruciform female figurines from the same period. Medieval coins and pottery remains were also discovered at the same site.
An archeological project called the Lemba Experimental Village was introduced as a way of recreating the same ancient village to retrace historic activitie.
Such as pyrotechnology, building of materials, prehistoric methods of cooking and pottery firing.

Take a trip to Cyprus to witness some of these remarkable Archaeological Sites in Cyprus.

 




Maybe even make some Archaeological finds of your own!.
It's why our family visited Cprus so often over 25 years and now we have been living here for over 5 years!

Top of Archaeological sites in Cyprus