UNIQUE GIFTS IN CYPRUS
by NICOLETTA
(NICOSIA, CYPRUS)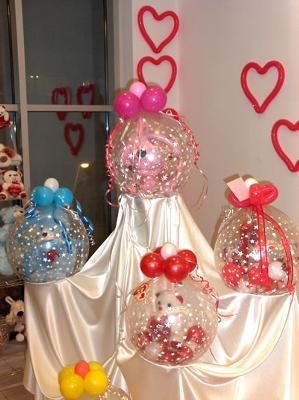 Imagine your gifts floating inside a ballon!


If you already have a personal gift, leave it with use to create an unforgettable and unusual present for that special person in your life.
We can create special gifts for all ages and personality.
We can use anything from toys, flowers and even a bottle of wine!
In fact, almost any type of present as long as its not taller than 43cm.
For more information and estimated prices...
CONTACT: NICOLETTA 96875478
E-mail:angel_nicool@yahoo.com
.. ΦΑΝΤΑΣΟΥ ΤΑ ΔΩΡΑ ΣΟΥ ΣΕ ΕΝΑ ΜΠΑΛΟΝΙ
ΑΝ ΕΧΕΙΣ ΕΙΔΗ ΤΑ ΔΩΡΑ ΣΟΥ ΑΦΗΣΕ ΤΗΝ
ΦΑΝΤΑΣΙΑ ΜΑΣ ΝΑ ΔΗΜΙΟΥΡΓΗΣΕΙ ΕΝΑ ΑΞΕΧΑΣΤΟ
ΔΩΡΟ ΓΙΑ ΤΑ ΑΤΟΜΑ ΠΟΥ ΑΓΑΠΑΣ.
ΜΠΟΡΟΥΜΕ ΝΑ ΧΡΗΣΙΜΟΠΟΙΗΣΟΥΜΕ ΠΑΙΧΝΙΔΙΑ,
ΛΟΥΛΟΥΔΙΑ,ΠΟΤΑ... ΟΤΙΔΗΠΟΤΕ ΦΤΑΝΕΙ ΝΑ ΜΗΝ
ΞΕΠΕΡΝΟΥΝ ΤΑ 43CM ΣΕ ΥΨΟΣ.
CONTACT:YIANNIS 96490166