Household Goods For Sale
Xylofagou, Cyprus
by Kate
(Xylofagou, Cyprus)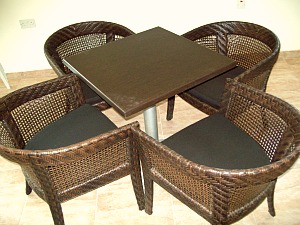 German Made Sun Protected Chairs and Table
6 Tables and 12 chairs, from Germany. Made with sun protected material and guaranteed for 10 years. Matching seat cushions with removable covers for washing.
Price
Table 50 Euros each
Chair 50 Euros each
Quality Stainless Steel Professional whole fruit juicer with waste bine and jug. Very good condition. Was 250 UK pounds
Price
120 Euros
3 Folding Bar stools. Metal frame, solid pine seat. Originally from John Lewis Department Store.
Price
36 Euros for 3 stools
3 Free standing chocolate colour wicker framed lamps. Approximately 4 feet tall.
Price
35 Euros each
Please ring 99156144 between 10am - 6pm Cyprus time which is GMT + 2 hours.